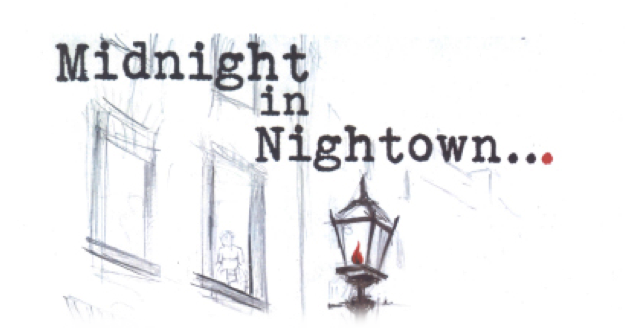 February 2nd 1922: Monto, the nickname for Europe's biggest red light district of the era… a hub of activity in the heart of Dublin City. Stories told and secrets shared by the notorious and colourful characters of this extraordinary place; The Monto… including Honour Bright's secret love affair with W.B. Yeats, Featuring comedy, dance, live music and Joyce celebrating the release of his just published masterpiece Ulysses.
Friday, the 11th of November is opening night for the world premier of Midnight in Nightown.
Guided from the extensive research of 'Monto' expert Terry Fagan we present a show based on Dublin's historical roots, featuring the best of Irish theatrical talent; Lisa Byrne ,(Alice in Funderland Abbey Theatre) Lisa Fox (Once, Olympia Theatre) Nichola Mac Evilly ( The Wake, Abbey Theatre), Rex Ryan (The Bug, Viking Theatre), Tom Moran (The Heart of Europe)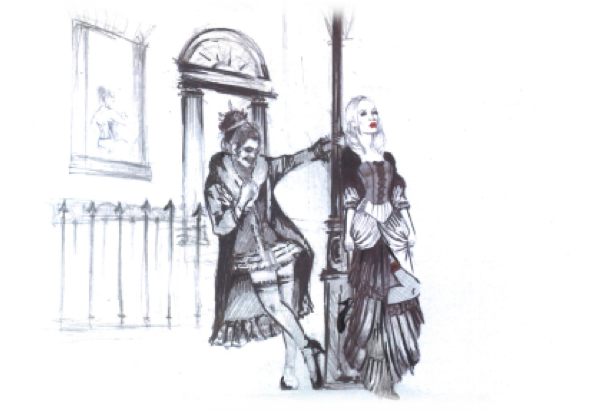 Guests can get the full Midnight in Nightown experience every Friday night from 7.30pm with tickets available from €55 including a full three course meal from the á la carte menu. For reservations book now at Magistorium box office on 22 South Anne Street, Dublin 2, off Grafton street or telephone 01 7079899. Open daily from 10am, or online www.magistorium.com or eventbrite.ie.
For further information please contact:
Mari O'Leary on marioleary@olearypr.ie
Karleen Smyth on karleensmyth@olearypr.ie
Phone: 01- 678 9888
Notes to the Editor:
Guide and Historian – Terry Fagan
Terry was born in the Monto , he had six brothers and two sisters and grew up with a strong sense of the history and legend of the place of his birth. Starting out delivering 'meals on wheels' Terry became immersed in the local community and soon began recording interviews to preserve the untold stories of the area. Since 1981 he has published books through the North Inner City Folklore Project. At the moment he is patiently searching for a Home to house his extensive archive, which features photos, books and artefacts dating back to the 1800s.
Terry is the author of the definitive guide to Monto; Madams , Murder and Black Coddle. He also undertakes walking back in time tours with stories of this infamous area.
Cast:
Honour Bright – Lisa Byrne
Lisa studied at the Urdang Academy in London and furthered her training at the Theatre le Passage in Paris. She has appeared in many Theatre productions including Ursula in 'Sweet Charity' at the Bloomsbury Theatre London, Chloe in 'Alice in Funderland' at the Abbey Theatre and received 5 star reviews at the Edinburgh Festival for her portrayal of 'Marjorie' in 'Extremities'. Film and TV credits include 'Our Wonderful Home' (Ripple world productions) and Ripper Street for BBC. Lisa recently directed and appeared in 'Midnight in the Republic' at the Gaiety Theatre. She is also an established choreographer and accomplished professional dancer.
Cameo May   – Geraldine McAlinden
Geraldine is an actress, director and writer. Her screen credits include the Jim Sheridan's The Secret Scripture, Red Rock, Zoo, The Truth Commissioner and Portrait of a Zombie (Winner of the 2013 Underground Film Festival's Best Independent Feature award). Geraldine's performance in Portrait of a Zombie led to her being long listed for an IFTA for Best Actress in a leading role in a feature film in 2013. She is a member of the Actors' Studio in Bow Street.
Becky Cooper – Nichola MacEvilly
Nichola trained at Rose Bruford College London and holds an MA from Royal Central School of Speech & Drama. She has worked extensively in TV, Theatre and film in the UK and Ireland. Seen most recently in Tom Murphy's THE WAKE at The Abbey Theatre directed by Annabelle Comyn, RIPPER STREET for BBC/Amazon and the role of ace sniper, suffragette and rebel Margaret Skinnider in SEVEN WOMEN for RTE/Tile Films.
Shilling a go – Teri FitzGerald
Teri FitzGerald is a graduate of the Gaiety School of Acting. Recent theatre credits include her self penned musical comedies 'the Wise Wound' at Smock Alley Theatre and 'A lesson in when to Quit' at Theatre Upstairs. Also, Risk Everything at the Viking and The New Theatre. Teri Plays a recurring character 'Nurse Lorna Dunne' on R.T.É's Fair City.
Mary Kate at number 8 – Lisa Fox
Lisa recently performed the part of Ex-girlfriend in Landmark's production of Once The Musical on the Olympia stage for the third time this summer, having also toured to South Korea in September/October 2015. She also plays Gertie Gúna on RTEjr's The Beo Show. Previous to that she appeared on The Abbey stage in She Stoops to Conquer, directed by Conall Morrison, as Bett Bouncer and Bridget.
Lily Lampost – Aoife Spratt
Aoife is and actor and singer. Screen Credits include: Republic of Telly (RTE), Smitten (RTE Storyland), Pregnancy Test (Crypt T.V) Trampoline, Cavalier.
Theatre Credits Include: Blackcatfishmuskateer (Dublin Fringe Festival) Recovery (Project Arts Centre) FOLK (Smock Alley Theatre)
W.B Yeats – Tom Moran
Tom is an actor, singer and musician and an experienced performer, both, onstage and screen. Tom finished shooting The Heart of Europe in Slovakia, starring opposite Gabriela Marcinkova (360, Byzantium) which is due for a European release in the Summer of 2016. Closer to home, Tom is due to appear in VIKINGS  Season 4 and also played the role of Davy in One Night in Dublin which is due for a  release in late 2016.
James Joyce – Rex Ryan
Most recent Theatre credits include Bug by Tracy Letts. Hamlet at the New Theatre. Pilgrim by Philip Doherty ( Dublin, Edinburgh, Manchester ) and The Motherfucker With The Hat by Stephen Adly Guirgis.
Rex is Artistic Director of The Corps Ensemble, the resident theatre company at The Viking Theatre.
The Puzzler /Leopold Bloom/ Leo Dillon – John Doran
John has worked extensively with The Devious Theatre Company as a Director, Actor and Writer since 2010.
Previous work includes; Enjoy (Rough Magic Seeds), Care (Willfredd Theatre), Wise Wound (Teri Fitzgerald), Me Michael (Abbey Theatre), Romeo & Juliet (The Gate Theatre) It Folds (Abbey Theatre Peacock) The Hellfire Squad, War of Attrition (Devious Theatre/Project Arts Centre), The Last Post (Just the Lads Theatre Company), The Aeniad, Human Child (Collapsing Horse/Smock Alley Main Space)
Frank Duff / Sailor /Patrick Purcell – Gerard Adlum
Recent theatre credits include his own plays The Man in Two Pieces and Bob&Judy (both of which premiered in 2015), How to Build Your First Robot (nominated for the Little Gem Award at the Dublin Fringe Festival '14), The Ugly One at The Lir, and the title role in Macbeth in a sell-out run at Smock Alley in January 2015.
Police Man / Oliver St. John Gogarty – David Marron
David took up playing guitar at age 14. He played his first gig at the age of 20. Since then he has been playing in the heart of Dublin City Centre with a number of different acts as well as fronting his own gigs. He made his first T.V. appearance as backing guitar player for Irish Country Music Star, Derek Ryan, in March 2016.
Priest – Duncan Brickenden
Duncan trained at the Conservatory of the Music and Drama (DIT) and the Royal Academy of Music, London. Whilst in London, he was assistant musical director of the West End Gospel Choir and Artistic Director of Soho Gospel. Having conducted and directed choirs and casts throughout the West End including the current Phantom of the Opera cast, he established himself as one of the leading MD's and vocal coaches in London. As a singer, Duncan has held contracts with the National Chamber Choir Ireland, and the Grammy award-winning ensemble Ars Nova, Copenhagen.
For the latter two years of his time in London, he complemented his musical career with arts and events management working for home house and the Ivy, and as Festival Curator of Pride in London which for 2016, welcomed one million people to pride with over fifty two events in its program.
                                                                  CREW
Created by Midnight in Nightown
Director – Lisa Byrne
Musical Director – Duncan Brickenden
Producer – Stephen Tadgh
Assistant Producer – Fodhla O' Brien
Costume Design by Joanne Evers
Lighting Design by John Gunning
Stage Manager by Liane McCarty
Inspired by Na Sí / Tuatha de Danaan.
About Magistorium
The new heart of Irish culture in Dublin can be found nestled behind the blue door on Number 22 South Anne Street, Dublin 2, just off Grafton Street, reincarnated from the old energies of McGonagles and The Crystal Ballroom. This magnificent theatre will host eclectic performances and cultural events while offering guests the opportunity to feast and drink from a menu themed to the various shows on offer.
Contact details:
Located: 22 South Anne Street, Dublin 2
Telephone: 01 7079899
Email: info@magistorium.com
Website: www.magistorium.com
Twitter: https://twitter.com/Nightown_1922
Facebook: https://www.facebook.com/midnightinnightown/
Instagram: https://www.instagram.com/midnightinnightown/