New Collection from Søstrene Grene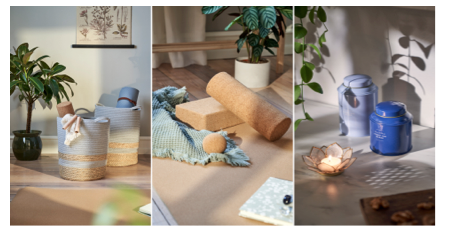 With the beginning of a new year, it is time to self-reflect and focus on the essentials. Søstrene Grene launch a new collection of novelties, which invites you to slow down and find well-being for mind, body and soul.  
This collection will launch in stores worldwide including Georges Street Dublin 2, Dun Laoghaire, Cork, Limerick, Belfast, Newry and Bangor on Thursday 20th January 2022 and will be available while stocks last.
ABOUT THIS COLLECTION
Get inspired to slow down and find happiness for mind, body and soul with the sisters' new collection.
The sisters present a selection that fosters peaceful moments with time for reflection upon the new year. Find peace of mind with a warm cup of tea in hand and a burning scented candle.
Let your surroundings set the scene for bodily well-being with the new collection that includes a training elastic band, a skipping rope, a yoga block as well as a yoga mat. With the right items at hand, it is easier to make room for the little moments of well-being in a busy everyday life.
For further information and photography, please contact:
Suzanne Monks | Mari O'Leary @ O'Leary PR
suzannemonks@olearypr.ie | marioleary@olearypr.ie 01-678-9888