Pre-Order for Access to VIP Demo on Jan 25, or Play the Open Demo on Feb 1
WATCH THE NEW GAME AWARDS TRAILER HERE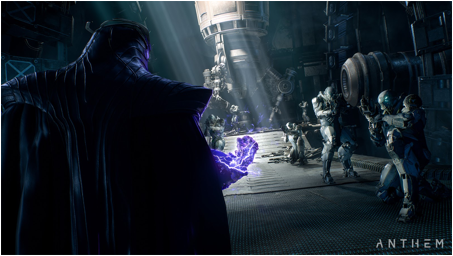 REDWOOD CITY, Calif. – Dec 13, 2018 – Today Electronic Arts Inc. (NASDAQ: EA) announced the dates for the VIP Demo of Anthem™, as well as the Open Demo. Fans who pre-order Anthem*, as well as EA Access and Origin Access subscribers**,will get access to the VIP Demo on January 25, 2019†, and all players will have a chance to step into their Javelins and experience Anthem for themselves on February 1, 2019. Both Demos will be available on Origin for PC, Xbox One and PS4. VIP Demo players will be the first Freelancers to face the dangers of the world of Anthem, and will receive an in-game item celebrating their trailblazing spirit.
"It's time for the fans to get their hands on Anthem and experience it for themselves," said Mike Gamble, Lead Producer for Anthem. "We truly hope they enjoy this taste of flying and fighting in this brand-new world our team has been crafting for many years."
Last night at The Game Awards BioWare™ also unveiled the latest trailer for Anthem, providing the most in-depth look yet at the game's villain, The Monitor, and his grand designs. The trailer also introduced some of the dangers lurking in the world that players will face as they try and quell the chaotic powers of the Anthem of Creation.
About Electronic Arts
Electronic Arts (NASDAQ: EA) is a global leader in digital interactive entertainment. The Company develops and delivers games, content and online services for Internet-connected consoles, mobile devices and personal computers. EA has more than 300 million registered players around the world.
In fiscal year 2018, EA posted GAAP net revenue of $5.15 billion. Headquartered in Redwood City, California, EA is recognized for a portfolio of critically acclaimed, high-quality brands such as The Sims™, Madden NFL, EA SPORTS™ FIFA, Battlefield™, Need for Speed™, Dragon Age™ and Plants vs. Zombies™. More information about EA is available atwww.ea.com/news.
*CONDITIONS AND RESTRICTIONS APPLY. SEEhttps://www.ea.com/games/anthem/pre-order-disclaimer FOR DETAILS.
**CONDITIONS, LIMITATIONS AND EXCLUSIONS APPLY. SEE ea.com/ea-access/terms ANDorigin.com/store/origin-access/terms FOR DETAILS.
†DEMO DETAILS AVAILABLE AT https://www.ea.com/games/anthem/anthem-demos. PERSISTENT INTERNET CONNECTION REQUIRED TO PLAY.
For further information please contact:
Melissa Kelly  melissakelly@olearypr.ie / Elizabeth Fearns elizabethfearns@olearypr.ie
t: 01-6789888