Discover novelties for the spring garden, the living room, the kitchen and the bedroom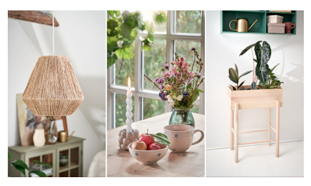 Søstrene Grene launches their beautiful new spring 2022 collection, which welcomes warmth and cosiness into the home. Surround yourself with joy as this new collection embraces beautiful living, with furniture and interiors inspired to create a warm and bright atmosphere for total tranquillity.
This collection will launch in stores worldwide including Georges Street Dublin 2, Dun Laoghaire, Cork, Limerick, Belfast, Newry and Bangor from Thursday, March 3rd 2022 and will be available while stocks last.
ABOUT THE COLLECTION
The sisters welcome spring into their home with their new collection that includes novelties for the living room, kitchen, bedroom and the spring garden. Bring joy and warmth into the home as this collection welcomes interior and furniture in natural materials, like the sisters' new plant stand made of FSC®-certified pinewood.
Discover the sisters' garden in which the early spring moments can be enjoyed. Surrounded by sprouting plants, the sisters present a variety of products to spruce up your garden space with a new selection of candleholders, flowerpots and vases, as well as baskets and a lampshade of rattan.
Explore the collection's many novelties for the kitchen, which offers tableware with a colourful touch. Add simple elements of enchanting colours and feel the joy it will bring.
*Please note that some products may be delayed and will be available at a later date.
 GREEN OASIS IN THE SPRING GARDEN
The sisters present a wealth of interior products to decorate a cosy spring garden. Create a graceful oasis in your home and let spring find its way.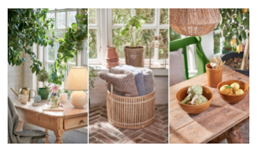 Basket. Available in various sizes. Price per item from €13.78.
SPRING RENEWAL IN THE LIVING ROOM
With the arrival of spring, it is time to renew the home with things that bring joy. Explore the novelties for the living room, which include a new pouffe and a lounge chair in the popular teddy material, as well as a wealth of beautiful interior and storage solutions.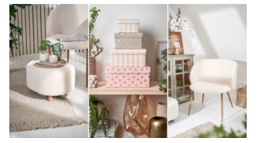 Lounge chair. Price per item €138.00.
COLOURFUL TOUCH AND DELICATE DISPLAYS IN THE KITCHEN
The sisters welcome spring into their colourful spring kitchen. Discover beautiful tableware, cutlery and ceramics, as well as kitchen tools that add delicate dash of colour.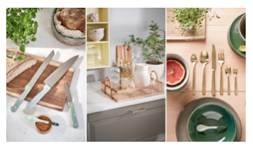 Cutlery. Stainless steel. Price per item from €2.14.
DAYBREAK IN THE BEDROOM 
Decorate your bedroom with soft textiles and natural materials to add a pleasant start to the day. Amongst the novelties for the bedroom, a new lamp, soft blankets, as well as a room divider made of FSC®-certified pinewood are introduced.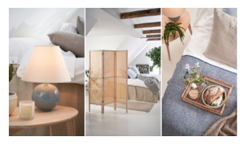 Room divider made of FSC®-certified pinewood. Price per item €168.00.
IMAGES FOR PRESS
You can download images here:
https://www.dropbox.com/sh/fb8xobhh4tigxjd/AADHBUBEFWVwHXbhmTGaeoAea?dl=0
The images can be published from Thursday, February 17th 2022.
STORE LOCATIONS
Georges Street Dublin 2, Dun Laoghaire, Cork, Limerick, Belfast, Newry, Bangor
For further information and photography, please contact:
Suzanne Monks | Mari O'Leary  @ O'Leary PR
suzannemonks@olearypr.ie | marioleary@olearypr.ie 01-678-9888
ABOUT SØSTRENE GRENE
Søstrene Grene, which was established in 1973, is a Danish retail chain, which seeks to embellish everyday life with innovative and aesthetic designs to create joy and 'hygge'.  The chain has 240 stores in a large number of European countries as well as Japan. The well-known Danish name is used in all markets, and the unique sensory store experience concept is the same regardless of where in the world you visit Søstrene Grene. The chain is owned and managed by the second generation of the family from the company's head office in Aarhus, Denmark, while the stores are mainly operated as joint ventures or on a franchise basis. Søstrene Grene is known for its clear values and strong corporate culture and has experienced strong growth and expansion in recent years. Read more about Søstrene Grene at www.sostrenegrene.com and/or in the press kit.
http://www.sostrenegrene.com/presse