Søstrene Grene Irish Stores To Reopen May 17th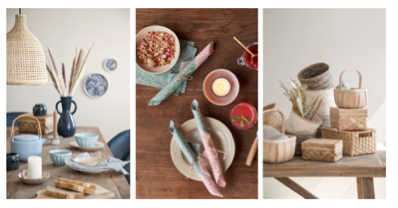 The concept of 'hygge' and a world of Danish home design can once again be experienced with the reopening of Søstrene Grene stores in Dublin, Cork and Limerick from Monday, May 17th. Discover the classic summer essentials that the sisters have to offer, with items that suit seasonal living across kitchen, beauty, arts and crafts and much more.
Visitors can explore Søstrene Grene's wide, ever-changing product selection through labyrinth-like aisles, classical music and pleasant, subdued lighting which are elements that characterise a truly unique experience when visiting any of their stores. On the shelves, customers will discover a wide range of interiors, small furniture, kitchen supplies, delicacies, DIY articles, children's interior and much more. Inspire contemplation and creativity in the kitchen using the right tools at hand and combine pretty and practical with ceramics, stoneware and kitchen utensils, that will create a warm and inviting kitchen aesthetic.
As we move to the outdoors, select from the range of wicker baskets ideal for picnics in the park or days at the beach. The collection of kitchen storage with pots, bottles and jars are handy for carrying food and drinks and there is a wide selection of crisp linen napkins and cloths available. Candles are a must-have to burn indoor or outdoor on long summer evenings and there is a choice of colours, which will suit any location or occasion.
With the longer days and warmer weather, there's more opportunity for hobbies too. Capture beautiful scenes and create art with the range of paint supplies and canvasses for big and small artists alike to help blossom creativity. Whether it's finger painting with the little ones or taking on new interior projects such as revitalising old furniture (using Søstrene Grene's outdoor vintage paint), there are activities to suit the entire family.  Explore the novelties for needlework projects with knitting wools and embroidery threads. Find a cosy nook in your home or garden and immerse yourself in a knitting project that will bring 'hygge' and joy into the summer evenings.
Experience the sisters' skincare range and treat yourself to a wonderful spa treatment in the comfort of your own home with Pure Bliss hand soap and cream, along with the body wash, oil and butter, all made with the purist ingredients and with no perfume – a perfect selection to choose from to make sure you are truly pampered leaving your skin feeling clean and fresh.
All items will be available in stores including George's Street Dublin 2, Dun Laoghaire, Blanchardstown, Cork, Limerick, Belfast, Newry and Bangor from Monday, May 17th.
Every week all year round, novelties can be found in the sisters' stores and at www.sostrenegrene.com where you can discover everything from ceramics, stoneware and kitchen utensils to chairs, coffee tables, flowerpots, and vases.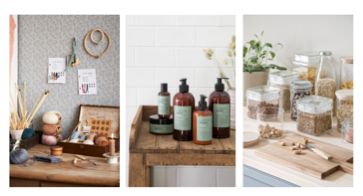 IMAGES FOR PRESS
You can download images here:
STORE LOCATIONS
Georges Street Dublin 2, Dun Laoghaire, Blanchardstown, Cork, Limerick, Belfast, Newry, Bangor 
For further information and photography, please contact:
Suzanne Monks | Mari O'Leary @ O'Leary PR
suzannemonks@olearypr.ie | marioleary@olearypr.ie 01-678-9888 
ABOUT SØSTRENE GRENE
Søstrene Grene, which was established in 1973, is a Danish retail chain, which seeks to embellish everyday life with innovative and aesthetic designs to create joy and 'hygge'. The chain has 240 stores in a large number of European countries as well as Japan. The well-known Danish name is used in all markets, and the unique sensory store experience concept is the same regardless of where in the world you visit Søstrene Grene. The chain is owned and managed by the second generation of the family from the company's head office in Aarhus, Denmark, while the stores are mainly operated as joint ventures or on a franchise basis. Søstrene Grene is known for its clear values and strong corporate culture and has experienced strong growth and expansion in recent years. Read more about Søstrene Grene at www.sostrenegrene.com and/or in the press kit.