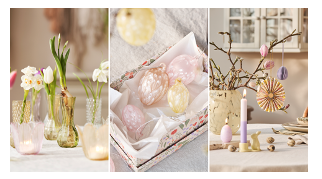 Søstrene Grene launches their Easter 2023 collection from Thursday, March 9th and will be available across all stores including George's Street Dublin 2, Dun Laoghaire, Cork, Limerick, Bangor, Belfast and Newry while stocks last. Explore this year's Easter decorations in fresh spring colours, which include a variety of Easter eggs, ceramic figures, small candleholders, and vases for spring flowers as well as inspiring DIY projects. 
Easter is the celebration which really heralds the arrival of spring and gives opportunities to decorate the home and gather the family around the Easter table. Welcome the brighter times with Søstrene Grene's new collection of festive Easter decorations to embrace the season and create a cosy spring feeling in the home.
In the selection, you will find Easter eggs of all styles and shapes, including novelties such as paper fan eggs, XL eggs and Easter egg candles as well as timeless hanging eggs for spring branches. These also come in many different designs, ranging from coloured glass and felt to the more classic hand-painted Easter eggs in porcelain and ceramics. The many Easter eggs are joined by adorable vases and cosy candleholders as well as decorative figures.
You can also explore a range of creative ideas for homemade Easter decorations. Paint beautiful Easter eggs with natural dye, sew unique patchwork Easter eggs, create decorative Easter decorations or wreaths, and find inspiration for lovely paper cut-outs.
Welcome Easter with the sisters' inspiring novelties. Discover more in the image bank:
https://www.dropbox.com/sh/uurbgg7t9spfnzj/AADHcQVYtID4aIduc-BVx_3_a?dl=0
For further information and photography, please contact:
Suzanne Monks | Mari O'Leary  @ O'Leary PR
suzannemonks@olearypr.ie | marioleary@olearypr.ie 01-678-9888