SHOPPING WITH CARE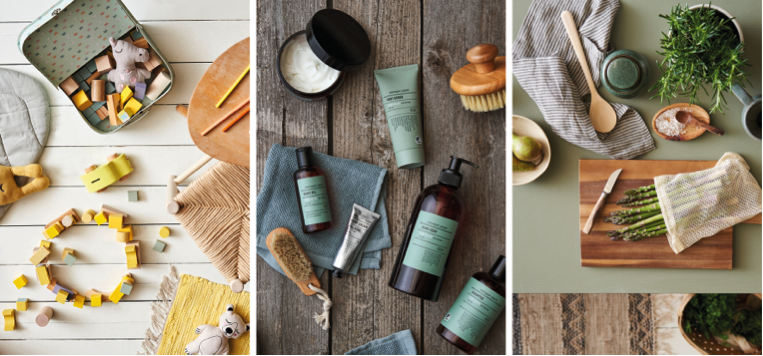 Søstrene Grene launch their responsibility report bringing focus to the chain's work with sustainability and social responsibility and which lists the chain's initiatives and ambitions for sustainable living for the future.
The two sisters, Anna and Clara, who are the characters behind Søstrene Grene, together represent orderliness and honesty, the respect for fellow human beings and the courage to take action and responsibility for a more sustainable future. For Søstrene Grene, sustainability is about responsibility and making a difference, not only at a global level, but also in the local areas where the company operates. According to CEO Mikkel Grene, that is how it has been since the beginning in 1973. Mikkel Grene adds:
"To ensure that it is top-of-mind for all employees as well as our customers, we have made responsibility an integrated part of our overall business strategy. We must include responsibility and sustainability into all business processes, and this we will put a huge focus on in the coming years. I think we have so much to be proud of. We have comprehensive work going on, and we want to be among the best within this field. Most importantly, our customers must know of our initiatives, so they can keep this in mind when choosing our products."
PRODUCT SAFETY FOR CUSTOMERS IS A PRIORITY
The chain's customers always come first and must have confidence in the products when shopping at Søstrene Grene. Therefore, the company wishes to communicate with all its consumers on the process of product safety, which includes testing for harmful substances in the products and continuously focusing on introducing more products with certifications and labels.
"We often receive questions from our customers about the substances and materials in our products, as well as how they are produced. When we launch a new product, it has been through a long test process, which involves quality and safety controls, chemical and physical tests etc. to ensure that the product is safe to use and meet the legal requirements. In many cases our requirements also go beyond the legal requirements. Furthermore, we have an ambition to introduce even more products with voluntary certifications and labels, such as FSC®, the Nordic Ecolabel and GOTS, as these serve as add-ons to the safe shopping experience," says Liv Vestergaard, Head of Quality & Compliance at Søstrene Grene.
In addition, Søstrene Grene is a member of amfori BSCI, which is an international system to manage and audit the suppliers. Amfori BSCI has more than 2,000 international companies as members. BSCI's Code of Conduct prohibits child labour, corruption and discrimination, among other things, while also securing the worker's health and safety at the factories.
Supporting marginalised girls' education in cooperation with Plan International
Charity also is part of Søstrene Grene's responsibility initiative. The chain has just extended their cooperation with Plan International, which focuses on supporting marginalised girls' education in Eastern Africa.
"Gender equality is a topic which is highly important to us, and especially girls' education that plays an important role in fighting poverty in developing countries. Therefore, we would like to support Plan International's important work on this area. As part of the cooperation, we sell selected products in our stores and online, where a donation from that product sold will be given in support of girls' education in Eastern Africa. With 90 million visitors in our stores a year and many followers on social media, we believe that we can help channel this important message," says Mikkel Grene
IN THE MIDDLE OF A DIGITAL TRANSFORMATION
The sustainability initiative comes at a time, where the family-owned company is in the middle of a digital transformation with the launch of web shops in several markets. In general, a large focus is on providing the customer with an even better and more personalised shopping experience, both online and offline.
"We want Søstrene Grene to take the digital lead within European retail. It is a very comprehensive transformation of Søstrene Grene, which we started 3 years ago, towards what you may call "the company of the future". Here, it is only natural to integrate responsibility and sustainability into the many new initiatives and opportunities we get to do things differently. It means a lot to us and to our customers." Mikkel Grene concludes.
From today, you can find Søstrene Grene's new responsibility report on their website, where they also present a small video that sets the scene for the sisters' responsibility work.
EXAMPLES OF GOALS FROM THE REPORT
By the end of 2022, all furniture, toys and kitchenware of wood must be made from FSC®-certified wood.
By the end of 2021, all cardboard and paper packaging for e-com must be FSC®-certified, just as there is generally a large focus on lowering the amount of transport and product packaging.
By the end of 2022, a large amount of Søstrene Grene's textile products must be OEKO-TEX®- or GOTS-certified, and more products made from recycled materials will be introduced.
Read more on https://sostrenegrene.com/ie/responsibility
Søstrene Grene has more than 240 stores in 15 countries, as well as web shops in Denmark and Germany with more online markets on the way.
For further information and photography, please contact:
Mari O'Leary | Suzanne Monks @ O'Leary PR
marioleary@olearypr.ie | suzannemonks@olearypr.ie 01-678-9888
Please note: Press material may be published from 5 October, 2020.