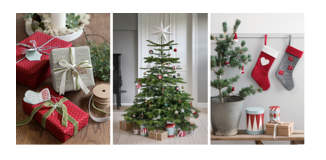 Available 24 October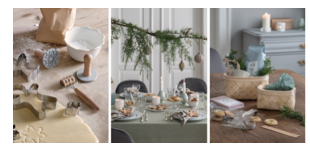 Available 21 November

Søstrene Grene's 2019 Christmas collection has a range of new products that will inspire and awaken your festive spirit and creativity. From marvellous kitchen utensils, beautiful host and hostess gifts and gracious table settings designed for Christmas and New Year's Eve, the collection will help transform your home into a warm and inviting winter solace for family and friends to enjoy. The collection, which launches in two phases, October 24th and November 21st 2019 in all Søstrene Grene stores worldwide including Georges Street Dublin 2, Dun Laoghaire, Blanchardstown, Cork, Limerick, Athlone, Belfast, Newry and Bangor, will inspire gifting ideas, create magical moments and set the perfect ambiance this festive season.
To Anna and Clara, Christmas is the most joyful time of year and with this year's Christmas collection, the two sisters wish to inspire everything from wonderful wrapping ideas and graceful table arrangements to festive seasonal decorations, as well as the creation of a magical Christmas for children. To set the perfectly enchanted Christmas table and memorable 2019 New Year Eve's dinner table for family and friends, the sisters offer sets of tableware, including wine and champagne glasses, to help toast the new year. Come together and create magical moments in the kitchen using various kitchen utensils specifically themed for the time of year.
At Søstrene Grene, you'll find a large selection of beautiful gift-wrapping materials such as wrapping paper, ribbon and gift tags along with baskets and gift boxes to help inspire your own host and hostess enchanted gift packages for friends and family this Christmas.
Christmas products will be available in Søstrene Grene stores on 24th October and 21st November.
IMAGES FOR PRESS
You can already download images as well as a product prices:
https://www.dropbox.com/sh/g12f76i0nbxoxzh/AACkvKMMnRFAfQYscBXllFNua?dl=0
The images can be shared from 4 October 2019.
STORE LOCATIONS
Georges Street Dublin 2, Dun Laoghaire, Blanchardstown, Cork, Limerick,  Belfast, Newry, Bangor
For further information and photography please contact:
Mari O'Leary | Suzanne Monks @ O Leary PR
marioleary@olearypr.ie | suzannemonks@olearypr.ie 01-678-9888
ABOUT SØSTRENE GRENE
Søstrene Grene, which was established in 1973, is a Danish retail chain, which seeks to embellish everyday life with innovative and aesthetic designs to create joy and 'hygge'. The chain has 240 stores in a large number of European countries as well as Japan. The well-known Danish name is used in all markets, and the unique sensory store experience concept is the same regardless of where in the world you visit Søstrene Grene. The chain is owned and managed by the second generation of the family from the company's head office in Aarhus, Denmark, while the stores are mainly operated as joint ventures or on a franchise basis. Søstrene Grene is known for its clear values and strong corporate culture and has experienced strong growth and expansion in recent years. Read more about Søstrene Grene at www.sostrenegrene.com and/or in the press kit.