Discover classic novelties at Søstrene Grene this festive season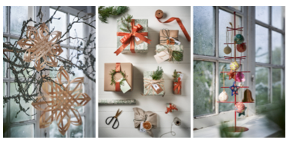 Søstrene Grene launches their beautiful Christmas 2021 collection that will inspire and transform your home into a magical and festive wonderment for those cherished moments this season. Discover this year's Christmas collection, which includes decorations and ornaments, as well as baking essentials that will make the home ooze of Christmas spirit.
This collection will launch in stores worldwide including Georges Street Dublin 2, Dun Laoghaire, Cork, Limerick, Belfast, Newry and Bangor from 21st October to 4th November 2021 and will be available while stocks last.
About the collection
Inspired by old traditions as well as timeless Christmas symbols and colours, Søstrene Grene launches a wealth of Christmas novelties filled with classic and creative finds. True to tradition, this year's collection includes all manner of decorations, small gift ideas for advent and calendar gifts, everything you need for gift wrapping, as well as kitchen and baking articles for this year's Christmas baking.
Søstrene Grene once again presents a variety of beautiful wrapping paper with classic Christmas patterns and a dash of new colours to enrich your Christmas gifts. All of Søstrene Grene's wrapping paper is made of FSC®-certified paper. By choosing these products, you support a responsible use of the world's forests.
Besides the product themes below, which include gift-wrapping, Christmas decorations and Christmas baking, the sisters will launch even more Christmas novelties as time goes on. Here, the sisters present more for Christmas baking, tableware and decorations for the table setting, as well as gift ideas for big and small.
Søstrene Grene presents new Christmas articles every week which you can view both in stores and online at
www.sostrenegrene.com and discover the Christmas favourites.
* Please note that some products may be delayed due to the coronavirus pandemic.
WRAPPING WITH CARE
As always, the sisters present a wealth of opportunities for gift-wrapping, such as boxes and gift bags, as well as a wide selection of wrapping paper in classic colours with a touch of new tones. The options are endless for this year's gift-wrapping ideas.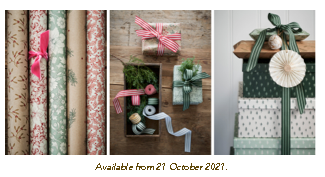 SPLENDID CHRISTMAS DECORATIONS
Let the home ooze of Christmas by decorating it to its finest with a mix of new and old finds. Discover the broad selection of Christmas decorations, as well as hobby articles such as decorative plates and wreaths to inspire your creative side for this year's Christmas decorations to transform the home.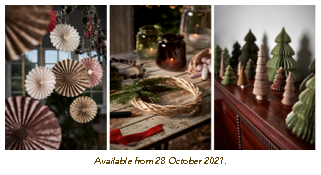 TASTEFUL CHRISTMAS BAKING
Christmas baking is a very special part of the Christmas tradition, where the family gathers for cosy moments in the kitchen. Find useful tools for baking and storing the crunchy cookies and crackling Christmas treats.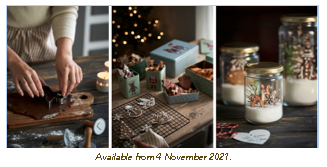 IMAGES FOR PRESS
You can download images here:
https://www.dropbox.com/sh/301nqgyn7ipxb9z/AABDAQLs7xRo7mbzk4CXXHz1a?dl=0
The images can be published from Thursday, October 7th 2021.
STORE LOCATIONS
Georges Street Dublin 2, Dun Laoghaire, Cork, Limerick, Belfast, Newry, Bangor
For further information and photography, please contact:
Suzanne Monks | Mari O'Leary @ O'Leary PR
suzannemonks@olearypr.ie | marioleary@olearypr.ie 01-678-9888
ABOUT SØSTRENE GRENE
Søstrene Grene, which was established in 1973, is a Danish retail chain, which seeks to embellish everyday life with innovative and aesthetic designs to create joy and 'hygge'. The chain has 240 stores in a large number of European countries as well as Japan. The well-known Danish name is used in all markets, and the unique sensory store experience concept is the same regardless of where in the world you visit Søstrene Grene. The chain is owned and managed by the second generation of the family from the company's head office in Aarhus, Denmark, while the stores are mainly operated as joint ventures or on a franchise basis. Søstrene Grene is known for its clear values and strong corporate culture and has experienced strong growth and expansion in recent years. Read more about Søstrene Grene at www.sostrenegrene.com and/or in the press kit.