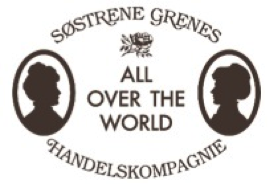 Discover an ever-changing home of classics from Søstrene Grene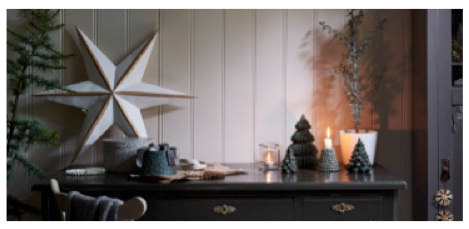 Søstrene Grene launches their festive Christmas 2020 collection that will help transform your home and create magical moments with loved ones this season. Inspired by the North Pole's aesthetic, this nostalgic Christmas collection stays true to tradition with ornaments and decorations made from natural materials, along with inspiration for your Christmas baking and ideas for Advent calendar gifts, as well as paper for wrapping your presents with care.
This Collection, which launches in two phases will be available in stores worldwide, including Georges Street Dublin 2, Dun Laoghaire, Blanchardstown, Cork, Limerick, Belfast, Newry and Bangor from October 22nd and November 19th.
ABOUT THIS COLLECTION
Christmas is a special time of year where hearts are touched, and joyful moments are shared. As we prepare for the ultimate season of 'hygge', this collection includes a wealth of products for everything that Christmas has to offer. Experience the warmth and coziness that the festive season creates with decorations made from natural materials such as porcelain, ceramic and paper.
Explore a world of ideas for this year's advent calendar that will help create the sense of excitement as the little ones count down to Christmas. For inspiration and wrapping ideas, this year's Advent calendar and Christmas gifts can be wrapped with care for the environment as Søstrene Grene's wrapping paper is FSC®-certified which guarantees that the products are responsibly produced and comes from sustainably driven forests.
Tastefully set the mood and keep up with tradition as Søstrene Grene's Christmas collection offers you everything you desire for all your baking needs, such as tools and accessories as well as the sisters' classic baking tin.
Light up the Christmas tree and make it radiant with ornaments such as ceramic Christmas bulbs with cosy motifs and unique colourful Christmas bulbs made from papier mâché, helping you create a wonderfully vibrant tree to accompany the home. Let the Christmas spirit embrace as you set the table for the perfect dining experience with their tableware selection, specially included to help create magical moments and set the perfect ambience for the festive season.
The Christmas products will be available in all Søstrene Grene stores from 22 October and 19 November 2020. Every week until Christmas, you will be able to experience new Christmas items in the sisters' stores.
SPLENDID CHRISTMAS DECORATIONS
Experience this year's Christmas decorations in natural materials like porcelain, ceramic and paper – all inspired by the sisters' Nordic origin and the nostalgic icons of Christmas.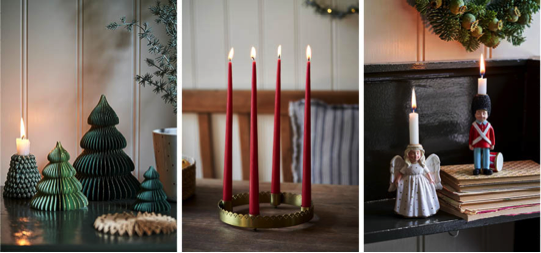 Candleholder with angel or tin soldier. 11.5 cm. Available in three varieties. Price per item €5.58
EVERYTHING FOR THIS YEAR'S ADVENT CALENDAR GIFTS
Also this year, Anna and Clara invite you to explore a world of ideas for this year's Advent calendar gifts in every price range, to help sweeten the lengthy waiting time before Christmas for the dear little ones.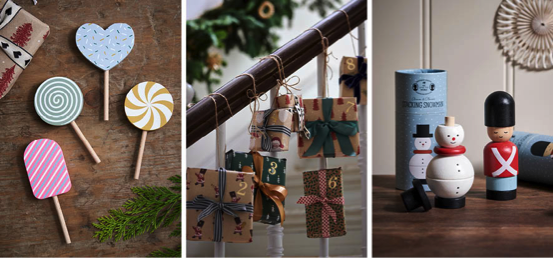 Advent calendar gifts. Prices from €0.85 to €5.05
TASTEFUL CHRISTMAS BAKING FOR EVERYONE
In keeping with tradition, Christmas at Søstrene Grene also offers everything for this year's Christmas baking. Explore tools and accessories for baking, decorating and storing baked goods, including the sisters' classic biscuit tin. This year, Anna and Clara also introduce baking tools made specifically for children and a stool made by FSC-certified wood, so that the little ones can help baking.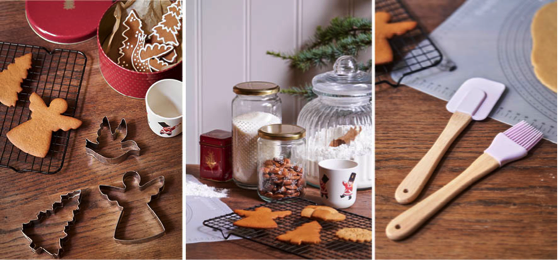 Pastry cutter with Christmas motifs. Available in several varieties. Prices from €0.45
SET A CHRISTMAS TABLE FOR EVERY DAY AND FESTIVITIES
Be inspired by the new products to set a magical Christmas table, letting the Christmas spirit embrace both every day and festivities. Discover a tablecloth made by recycled fibers, among other things. The tablecloth is GRS-certified, where plastic from used plastic bottles are used in the production of the polyester.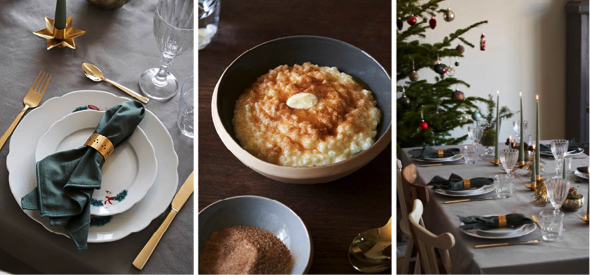 Tablecloth. GRS-certified. 240 x 140 cm. Available in red and grey. Price per item €24.40
LET THIS YEAR'S CHRISTMAS TREE RADIATE
This year, you can once again explore a wealth of Christmas tree decorations in fine colours and shapes in the sisters' Christmas world. Explore ceramic Christmas bulbs with cosy Christmas motifs and unique, colourful Christmas bulbs made of papier mâché among others.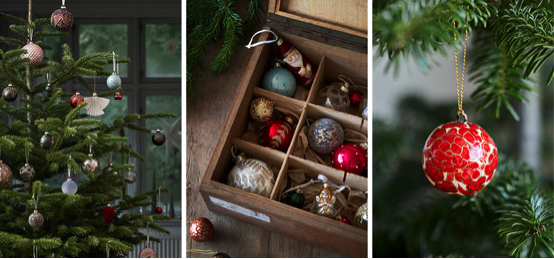 Christmas ornaments. Available in several varieties. Price per item €0.84 to €4.20.
IMAGES FOR PRESS
You can download images here:
October 22nd
https://www.dropbox.com/sh/pfwqre2n4im1f29/AACWbl8X_gGO9uYQrxaNja67a?dl=0
November 19th
https://www.dropbox.com/sh/tnv58p1tq5pyihw/AACo4qTjfaX50o-QEftTfYRYa?dl=0
The images can be shared from Thursday, 1 October 2020.
STORE LOCATIONS
Georges Street Dublin 2, Dun Laoghaire, Blanchardstown, Cork, Limerick, Belfast, Newry, Bangor
For further information and photography, please contact:
Mari O'Leary | Suzanne Monks @ O'Leary PR
marioleary@olearypr.ie | suzannemonks@olearypr.ie 01-678-9888
ABOUT SØSTRENE GRENE
Søstrene Grene, which was established in 1973, is a Danish retail chain, which seeks to embellish everyday life with innovative and aesthetic designs to create joy and 'hygge'. The chain has 240 stores in a large number of European countries as well as Japan. The well-known Danish name is used in all markets, and the unique sensory store experience concept is the same regardless of where in the world you visit Søstrene Grene. The chain is owned and managed by the second generation of the family from the company's head office in Aarhus, Denmark, while the stores are mainly operated as joint ventures or on a franchise basis. Søstrene Grene is known for its clear values and strong corporate culture and has experienced strong growth and expansion in recent years. Read more about Søstrene Grene at www.sostrenegrene.com and/or in the press kit.
http://www.sostrenegrene.com/presse