Søstrene Grene opens its biggest store outside of Denmark
on Dublin's Georges Street on Friday 3rd August at 9am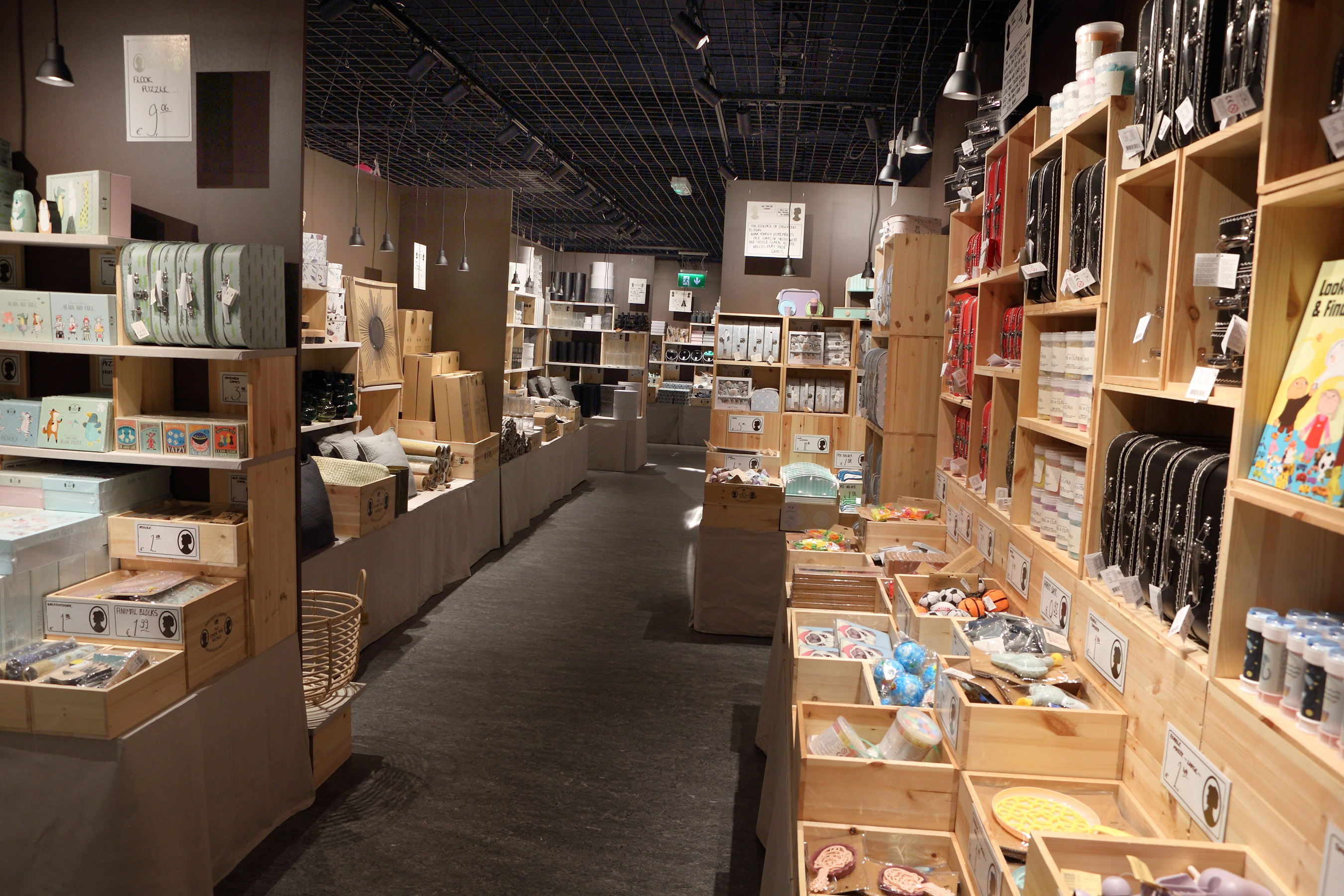 Danish lifestyle retailer Søstrene Grene will open its biggest store outside of its home country Denmark at 69/70 South Great Georges Street at 9am on Friday 3rd August. This is the sixth store to open in the Republic of Ireland and the 370 square metres space houses Søstrene Grene's extensive range of home interiors, small furniture, kitchen supplies, craft and DIY articles, party decorations.
The selection of affordable products is ever changing with new items coming in store weekly, making every visit a chance to find something new. The stores themselves are also unlike most others with dark walls, labyrinth-like aisles, classical music and pleasant, subdued lighting. They are designed to be a peaceful and relaxing space.
Søstrene Grene translated means "the Grene Sisters". The characters, who are two sisters Anna and Clara, serve as the hosts and their presence is reflected across all aspects of the brand. Little bright moments of joy in the everyday life and lots of unique Scandinavian design for the home – this is what retail brand Søstrene Grene wishes to bring its customers all across Europe.
Søstrene Grene has been expanding steadily across Europe and Japan over the past number of years and now has 200 stores across 16 countries. It currently has five other stores in the Republic of Ireland – Dún Laoghaire, Blanchardstown, Athlone, Cork and Limerick.
Niall and Heather Lawlor introduced the Søstrene Grene brand to Ireland with the opening of the first store on George's Street, Dun Laoghaire in December 2015. Commenting on the opening of this flagship store Niall and Heather said; "The expansion of the Søstrene Grene brand in Ireland continues with this large centrally located Dublin city store. We were searching for a large location to showcase our growing furniture category and ever expanding selection of new items that arrive in our stores weekly. South Great Georges Street gives us that space to delight and surprise our customers."
CEO Søstrene Grene, Mikkel Grene is looking forward to the opening of the signature store on South Great George's Street; "The past few years have been quite a journey for us at Søstrene Grene. We have been able to open a lot of new stores in exciting places, and we see each new store as another opportunity to create wonderful shopping experiences. I think South Great Georges Street will be a great location for us, and with a store of about 370 square metres, we really have the chance to create a store that stands out. It will be the biggest Søstrene Grene store outside of Denmark, so that is quite special."
Søstrene Grene   69/70 South Great Georges Street, Dublin 2
Opening hours: Opening day August 3rd: 9.00am – 7.00pm
                        Monday to Sunday: 10.00am – 7.00pm
#SostreneGreneDublin    Instagram @sostrenegrene
For further information and photography, please contact:
Mari O'Leary O'Leary PR and Marketing       marioleary@olearypr.ie   Office: +353 1 678 9888
About Søstrene Grene:
Søstrene Grene is a Danish retail chain, which aspires to enrich everyday life with aesthetic designs, creativity, joy and 'hygge' – a special state of contentment, warmth and belonging to the present.
The stores offer a wide assortment of products for home and interior, kitchen, craft and DIY, party items and gift wrapping, school and office, children and play, and items for the seasons. With an ever-changing assortment and prices that are never higher than they need be, the family-owned retailer wishes to create a wonderful world where finds can be made and creativity is encouraged.
The brand revolves around the story of the characters Anna and Clara Grene; two elderly sisters who diligently work to create slight, bright differences to everyday life. The inspiration for the sisters was found in the Grene family, meaning the family that founded Søstrene Grene in 1973 and still own and run the organisation to this day.
Søstrene Grene has 200 stores in 16 countries, and more continue to open.
Read more about Søstrene Grene on https://sostrenegrene.com/ga/ and/or in the press kit sostrenegrene.com/ga/press-room/
See Søstrene Grene's identity film here: https://youtu.be/qBUGW-aQBOM
Experience the atmosphere of a new Søstrene Grene store opening in the video here:
https://www.youtube.com/watch?v=JD2crY1W8Ag
Contact Søstrene Grene:
Anne Katrine Pedersen
Press & Communication Specialist
anne.katrine.pedersen@sostrenegrene.com
www.sostrenegrene.com