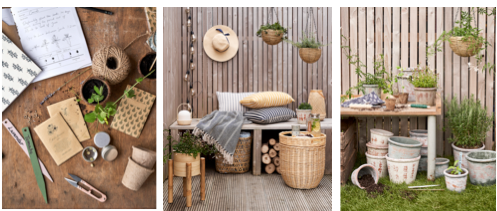 Søstrene Grene launch their new collection with products for enchanting outdoor living and 'hygge' to help create a cosy atmosphere in the garden, on the terrace or on the balcony. Featuring a variety of seasonal colours, the collection will be available in stores including South Great Georges Street Dublin 2, Dun Laoghaire, Blanchardstown, Limerick, Cork, Bangor, Belfast and Newry from Thursday, 2 April 2020.
ABOUT THE NEW COLLECTION
This season, Søstrene Grene presents an outdoor living collection perfect for joyful relaxation and 'hygge' under the skies. Explore the extraordinary finds, which include colourful flowerpots, tray tables, beautiful lanterns in wonderful wicker and garden planners, to help design an outdoor haven this spring. As well at planning for that perfect tranquil space within the garden, you will also find wooden games and soft blankets to create 'hygge' and fun-filled moments outside for all to enjoy.
IMAGES FOR PRESS:
Images for download can be found here:
https://www.dropbox.com/sh/ts5v6rj206w0fwf/AAAcNSgggzKOvRcF_VFbVH2Va?dl=0
STORE LOCATIONS
Georges Street Dublin 2, Dun Laoghaire, Blanchardstown, Cork, Limerick, Belfast, Newry, Bangor
For further information and photography please contact:
Mari O'Leary | Suzanne Monks @ O Leary PR
marioleary@olearypr.ie | suzannemonks@olearypr.ie 01-678-9888
ABOUT SØSTRENE GRENE
Søstrene Grene, which was established in 1973, is a Danish retail chain, which seeks to embellish everyday life with innovative and aesthetic designs to create joy and 'hygge'. The chain has 240 stores in a large number of European countries as well as Japan. The well-known Danish name is used in all markets, and the unique sensory store experience concept is the same regardless of where in the world you visit Søstrene Grene. The chain is owned and managed by the second generation of the family from the company's head office in Aarhus, Denmark, while the stores are mainly operated as joint ventures or on a franchise basis. Søstrene Grene is known for its clear values and strong corporate culture and has experienced strong growth and expansion in recent years.