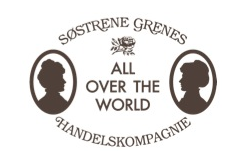 An ever-changing home of classics from Søstrene Grene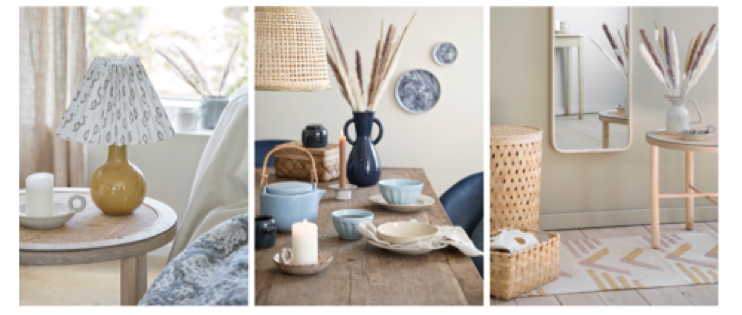 Søstrene Grene launches a new collection of novelties and well-known classics, that will help transform the home into a place of serenity and contentment. Discover fine wicker baskets and furniture, ceramics and textiles in calm shades for the kitchen, as well as the sisters' classic velour chair in new timeless colours. The Collection will be available in stores worldwide, including Georges Street Dublin 2, Dun Laoghaire, Blanchardstown, Cork, Limerick, Belfast, Newry and Bangor from Thursday, 27th August.
ABOUT THIS COLLECTION
The new collection is inspired by elements of the past and then reinterpreted within the present. Between the classic and the new, the collection introduces a series of novelties and well-known classics for the entire home, to help create a sense of warmth and freshness within each room.
Discover the collection which unfolds in themes inspired by the rooms of the home. Explore furniture and interior in weaved, natural materials, useful and decorative kitchen utensils, classic ceramic tableware for setting the table in the dining room, and soft textiles in calm colours for the living room and bedroom. Furthermore, a selection of decorative accessories and tools for creative needlework are also introduced.
Please note that products for the home are always available at Søstrene Grene. This includes, amongst other things, kitchen textiles, drinking glasses as well as glass containers of several kinds and essential kitchen utensils.
The collection will be available from Thursday, August 27th 2020 – with exception of the new velour chairs, which will be available September 3rd, and the sisters' bed blanket and rug available from September 10th.
FINE WICKER NOVELTIES
Invite the qualities of nature inside with these fine wicker items that have been introduced to the new collection. Explore a side table and plant stand with a woven top, as well as a wide selection of baskets for several purposes around the home.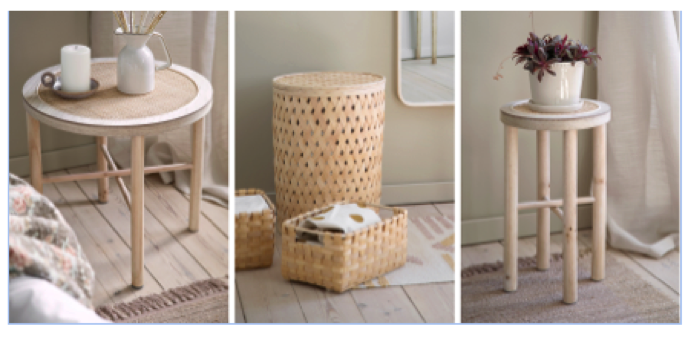 Side table with woven top side. Wood. Price per item €39.90
NEAR AND DEAR GATHERED AT THE TABLE
The kitchen is the heart of the home, while in the dining room, we share precious moments in the company of near and dear ones. Create a pleasant ambiance with ceramics in different shades and shapes and inspire contemplation in the kitchen with ceramic baking bowls and other baking necessities. To customer's delight, Søstrene Grene also welcomes back the classic velour chair and introduces three new colours to the collection.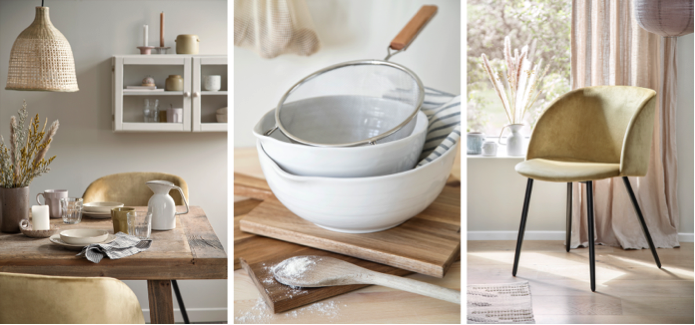 Velour chair. Available in three different colours: Price per item €59.90
INSPIRING INTERIOR FOR THE HOME
The new collection also includes an abundance of inspiring interior novelties. Explore items such as the decorative ceramic base table lamp and more ceramic finds, an elegant mirror in two sizes and cotton lampshades that shine a beautiful and comfortable soft light in the room.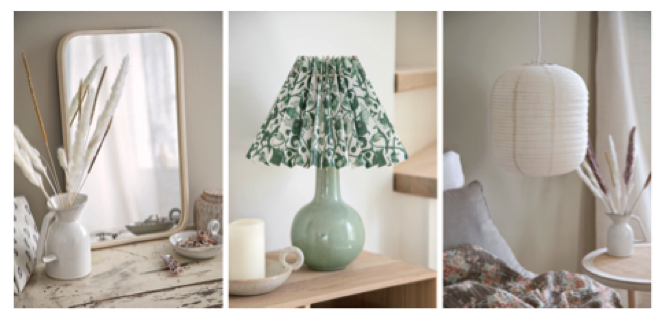 Table lamp. Available in two colours. Price per item €19.98
IMAGES FOR PRESS
You can download images as well as product prices here:
https://www.dropbox.com/sh/hl35mmx22s9vjga/AAA1u7Hw7xMPQbEv1n7Y6Wjja?dl=0
The images can be shared from Thursday, 6 August 2020.
STORE LOCATIONS
Georges Street Dublin 2, Dun Laoghaire, Blanchardstown, Cork, Limerick, Belfast, Newry, Bangor
For further information and photography, please contact:
Mari O'Leary | Suzanne Monks @ O'Leary PR
marioleary@olearypr.ie | suzannemonks@olearypr.ie 01-678-9888
Remember, you can always find party articles in Søstrene Grene. It's only colours and designs
that vary each season.
ABOUT SØSTRENE GRENE
Søstrene Grene, which was established in 1973, is a Danish retail chain, which seeks to embellish everyday life with innovative and aesthetic designs to create joy and 'hygge'. The chain has 240 stores in a large number of European countries as well as Japan. The well-known Danish name is used in all markets, and the unique sensory store experience concept is the same regardless of where in the world you visit Søstrene Grene. The chain is owned and managed by the second generation of the family from the company's head office in Aarhus, Denmark, while the stores are mainly operated as joint ventures or on a franchise basis. Søstrene Grene is known for its clear values and strong corporate culture and has experienced strong growth and expansion in recent years. Read more about Søstrene Grene at www.sostrenegrene.com and/or in the press kit.