Together we can make a difference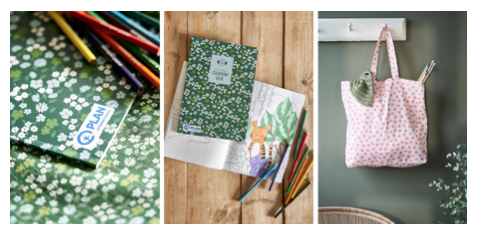 SUPPORTING UN'S INTERNATIONAL DAY OF THE GIRL
Again this year, Søstrene Grene brings focus on UN's International Day of the Girl on October 11th, a day which aims to raise awareness about the problems that girls all over the world face because of their gender. In that connection, Søstrene Grene launches two new tote bags along with a new colouring book in similar design. For each tote bag and colouring book sold, respectively €0.67/ £0.62 and €0.53 / £0.46 are donated to Plan International's important work.
Since 2018, Søstrene Grene have had a strong partnership with Plan International. The cooperation specifically focuses on helping girls and young women out of poverty. The goal is that more girls and young women in Eastern Africa will be able to get an education and thereby the opportunity to create a better and more safe life for themselves and their families. As a part of the cooperation, Søstrene Grene introduces products with Plan International on a regular basis where a part of the price is donated to the good cause.
Read more about the partnership and find the products here:
Together we can make a difference | Søstrene Grene (sostrenegrene.com)
PUTS SUSTAINABILITY AT THE TOP OF THE AGENDA
Charity and the cooperation with Plan International are a part of the new overall responsibility initiative, on which Søstrene Grene have just launched their new responsibility report. In this, the new responsibility strategy is presented, which has a large focus on the circular thought in the entire product development. The ambition is that more and more products must be able to be used again and again.
Read more about Søstrene Grenes responsible initiatives in the sisters' new responsibility report:
https://sostrenegrene.com/en-gb/landing/together-we-can-make-a-difference
See the new Plan International products here;
The shown products are available in stores and online Thursday 7 October 2021. All products are available as long as stock lasts.
FOR FURTHER INFORMATION, PLEASE CONTACT:
Mari O'Leary | Suzanne Monks @ O'Leary PR
marioleary@olearypr.ie | suzannemonks@olearypr.ie 01-678-9888