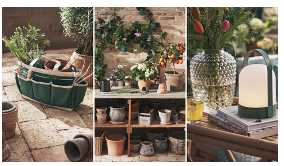 Søstrene Grene welcomes the new, blooming season with their newest outdoor living and garden collection, available across all stores including George's Street Dublin 2, Dun Laoghaire, Cork, Limerick, Bangor, Belfast and Newry from Thursday March 16th and March 23rd. The new collection includes everything from lovely, functional tools to outdoor décor to help spruce up the outdoor space.
Thursday 16 March: Welcome the garden season
On March 16th, Søstrene Grene will launch a series of gardening tools and equipment along with flowerpots and wicker baskets for getting the garden ready for spring. A cute selection of small gardening tools and accessories especially for children is also introduced here.
Thursday 23 March: Décor for outdoor living spaces
On March 23, the novelties invite you to highlight a sense of 'hygge' in your outdoor living spaces with outdoor interiors such as lanterns, hanging flowerpots, hurricane candleholders and more. Extend the life of the outdoor space into the evening with cozy lighting, for example with the sisters' popular LED lanterns or a solar cell lamp.
Please note: The release date is stated in the price and product overview, as well as the filename in the lifestyle imagery – all products are available while stocks last.
Have your outdoor areas bloom with this year's outdoor living novelties from Søstrene Grene. Discover more in the image bank:
https://www.dropbox.com/sh/ohwab9ikp8nkras/AADwAo5q7DRV6TUn2RTBqB36a?dl=0
For further information and photography, please contact:
Suzanne Monks | Mari O'Leary  @ O'Leary PR
suzannemonks@olearypr.ie | marioleary@olearypr.ie 01-678-9888