New collection from Søstrene Grene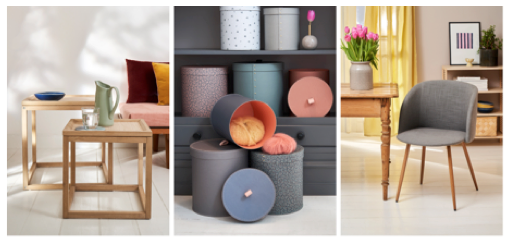 Søstrene Grene launches their new collection of novelties and iconic classics that pays tribute to nostalgia as they welcome a new season. Explore this beautiful spring collection, which includes a coffee table made from solid, FSC®-certified oak wood, colourful ceramics and the sisters' classic chair with teddy fabric.
This collection will be available in stores worldwide including George's Street Dublin 2, Dun Laoghaire, Blanchardstown, Cork, Limerick, Belfast, Newry and Bangor from Thursday, 25 March 2021.
ABOUT THIS COLLECTION
Inspired by old traditions and fine craftmanship, Søstrene Grene has created a collection that pays tribute to nostalgia and evokes memories within the home, with a wealth of wonderful products accompanied by the sisters' historic classics, that will be re-launched for all to enjoy. With the wish of an enchanting spring, this collection gives inspiration for the entire home, including the living and dining rooms, kitchen, the home workspace and the green life in the home.
Among the many wonderful novelties available in this season's collection, the sisters also present a new coffee table made from solid oak and available in two sizes. The oak wood is FSC®-certified, meaning that the wood has been harvested to benefit communities, wildlife, and the environment.
The sisters' well-known chair will also launch in three new colours and with new linen quality upholstery. The chair will also be available with soft teddy fabric for a brand-new expression in the spirit of the times.
This collection will be available in all Søstrene Grene stores from Thursday, 25 March 2021. Please note that a few products may be delayed due to the corona pandemic. Every week all year round, novelties can be found in the sisters' stores and at www.sostrenegrene.com where you can discover everything from ceramics, stoneware and kitchen utensils to chairs, coffee tables, flowerpots, and vases.
ENCHANTING SPRING COLOURS AT THE TABLE
The sisters' new collection includes a wealth of ceramic products for a colourful and decorative table setting. Explore espresso cups and the new stoneware with hand-painted 'splash' details available in three colours.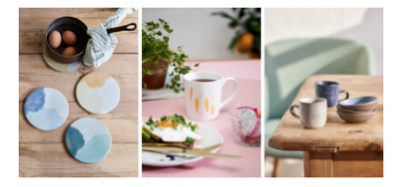 Trivets. Hand-painted stoneware. 14.5 cm. Price per item €4.34.
CREATIVE KITCHEN UNFOLDING AND TASTY PURSUITS
The key to letting creativity blossom in the kitchen is found in having the right tools at hand. This season, Søstrene Grene presents new inspiring kitchen storage items such as glass bottles, pretty patent jars and reusable food bags.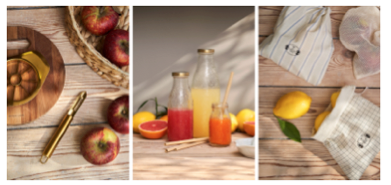 Reusable food bags. Available in several variations. Price per item from €1.42.
ROOM FOR HOMELY CONTEMPLATION
More than ever before, it is essential to have a space in the home with room for contemplation. Create inspiring settings for focus and thought with the sisters' novelties for the home office, which includes practical storage items and useful tools, amongst other things. Did you know that all Søstrene Grene's stationery paper products are FSC®-certified? By choosing these products, you are supporting responsible management of the world's forests.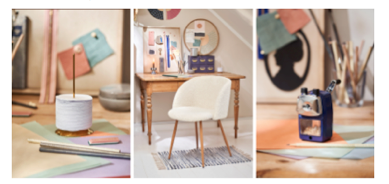 Chair with teddy fabric. Price per item €73.80.
GREEN OASIS AT HOME
This season, the sisters wish to inspire welcoming flowers and plants into the home. Therefore, a new, wide selection of flowerpots and vases in different materials, sizes, and shades are available. The inspiration for the glazed flowerpots is found in old-fashioned jam pots.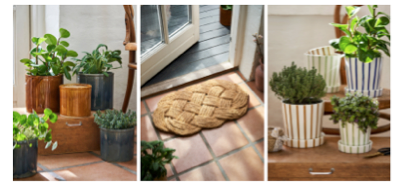 Striped flowerpots with hand-painted stripes. Available in two sizes and three colours. Price per item from €4.84.
DISCOVER THE HISTORIC CLASSICS
Besides a wealth of novelties, the sisters are also re-launching a series of historic classics this spring. This includes lotus candleholders in gorgeous colours, decorative fans and the elegant crane scissors that was experienced for the first time in the sisters' selection of sewing equipment in 1974.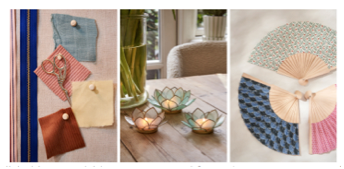 Lotus candleholders. Available in two sizes and four colours. Price per item from €3.98.
IMAGES FOR PRESS
You can download images here:
https://www.dropbox.com/sh/lpukfp5dvp61w83/AAD6eV4Fa9RWbMjPyVTEaow0a?dl=0
The images can be shared from Thursday, 11 March 2021.
STORE LOCATIONS
Georges Street Dublin 2, Dun Laoghaire, Blanchardstown, Cork, Limerick, Belfast, Newry, Bangor
For further information and photography, please contact:
Suzanne Monks | Mari O'Leary @ O'Leary PR
suzannemonks@olearypr.ie | marioleary@olearypr.ie 01-678-9888
ABOUT SØSTRENE GRENE
Søstrene Grene, which was established in 1973, is a Danish retail chain, which seeks to embellish everyday life with innovative and aesthetic designs to create joy and 'hygge'. The chain has 240 stores in a large number of European countries as well as Japan. The well-known Danish name is used in all markets, and the unique sensory store experience concept is the same regardless of where in the world you visit Søstrene Grene. The chain is owned and managed by the second generation of the family from the company's head office in Aarhus, Denmark, while the stores are mainly operated as joint ventures or on a franchise basis. Søstrene Grene is known for its clear values and strong corporate culture and has experienced strong growth and expansion in recent years. Read more about Søstrene Grene at www.sostrenegrene.com and/or in the press kit.
http://www.sostrenegrene.com/presse