New Christmas items available each week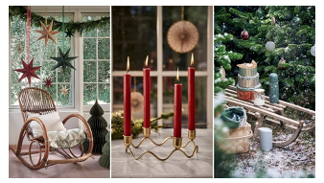 It's time to welcome the festive season as Søstrene Grene launch their beautiful Christmas 2022 collection with items that will light up your home and transform it into a winter wonderland. Discover this year's collection, which includes Christmas decorations, wreaths, and baking items to help create those magical moments and embrace the joyful Christmas spirit.
This collection will launch in stores worldwide including Georges Street Dublin 2, Dun Laoghaire, Cork, Limerick, Belfast, Newry and Bangor from 27th October and will be available while stocks last.
This year, Søstrene Grene presents The Magic of Christmas to inspire you to share magical moments with your loved ones at affordable prices. The seasonal magic can be found in the smallest of details – from the loveliest candles placed in candleholders, to the decorated Christmas tree and in the season's many other items.
If you already have a whole collection of Christmas decorations, Søstrene Grene offers smaller additions which can easily bring a little renewal to the aesthetics of your Christmas home décor. You will find a diverse selection of wonderful Christmas finds, which combine a nostalgic and traditional Christmas with a modern look, without it costing a fortune.
Most importantly, Søstrene Grene wishes to inspire you to spend time with your loved ones. Invite the family for cosy Christmas baking with the selection of festive kitchen items. For those crisp winter walks over the holidays, the collection offers thermos bottles and biscuits tins, so you can bring the home baked Christmas goods along with you and share with family and friends.
ENCHANTING WREATHS AND DECORATIONS
Bring nature inside the home with beautiful wreaths, which can adorn the Christmas décor. Discover the enchanting selection of artificial wreaths and branches with berries or be inspired to make your own wreath with the sisters' hobby items.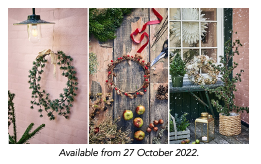 DELIGHTFUL DECORATIONS FOR THE HOME
This Christmas, Søstrene Grene presents a combination of nostalgic and classical Christmas decorations along with new interpretations such as lovely Christmas trees with LED lights, sparkling beaded ornaments, and stunning stars for hanging.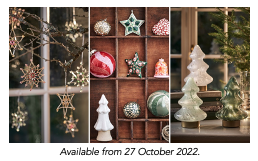 TASTY CHRISTMAS BAKING FOR CHILDREN AND ADULTS ALIKE
Let the scent of Christmas fill the home with cosy Christmas baking with the whole family. Find practical items for baking, tasting, and storing the delicious biscuits, sweets, and other Christmas goods.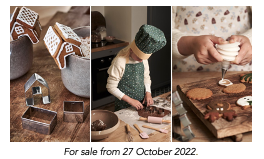 IMAGES FOR PRESS
You can download images here:
https://www.dropbox.com/sh/ou87gs2r1pf7t46/AAC1NR2G7p–XSgVJuXDKv73a?dl=0
STORE LOCATIONS
Georges Street Dublin 2, Dun Laoghaire, Cork, Limerick, Belfast, Newry, Bangor
For further information and photography, please contact:
Suzanne Monks | Mari O'Leary  @ O'Leary PR
suzannemonks@olearypr.ie | marioleary@olearypr.ie 01-678-9888
ABOUT SØSTRENE GRENE
Søstrene Grene, which was established in 1973, is a Danish retail chain, which seeks to embellish everyday life with innovative and aesthetic designs to create joy and 'hygge'.  The chain has 240 stores in a large number of European countries as well as Japan. The well-known Danish name is used in all markets, and the unique sensory store experience concept is the same regardless of where in the world you visit Søstrene Grene. The chain is owned and managed by the second generation of the family from the company's head office in Aarhus, Denmark, while the stores are mainly operated as joint ventures or on a franchise basis. Søstrene Grene is known for its clear values and strong corporate culture and has experienced strong growth and expansion in recent years. Read more about Søstrene Grene at www.sostrenegrene.com and/or in the press kit.