2nd January 2019
KSG Awarded Bord Bia Origin Green Certification
Leading catering and hospitality services provider KSG Catering has become a verified member of Bord Bia's national sustainability programme, Origin Green. KSG has committed to a comprehensive sustainability plan for its Food and Catering Services activities covering four key areas, ranging across sourcing and procurement protocols, waste management, health nutrition and wellness and corporate social responsibility.
Among KSG's recent sustainability initiatives is its operation at One Microsft Place, Microsoft's state of the art headquarters in Leopardstown, Co Dublin which opened in February 2018. The company operates seven bespoke restaurant and café concepts including Cortado Coffee Bar with coffee roasting on site and a supply link to a farmer's co-op in Columbia. Another initiative is Ireland's first plastic free 'Bio Green Café' located at University College Cork which opened in September and where all single use plastic has been removed or banned from the premises. This followed the successful introduction of the 'University Farm' initiative in 2016 when KSG again partnered with UCC on sustainability leadership.
Michael Gleeson, Chief Executive of KSG, "We have a long-standing awareness of our responsibility to the environment and sustainable operating practices and we are honoured to be part of the Origin Green programme. Sustainability is an increasingly important element of delivering catering services to our clients and we believe we are leading the industry in practices of waste management, sourcing and health and nutrition. We also reinforce and support our sustainability ethos by operating our own vegetable farms in Dublin and Cork".
Tara McCarthy, Chief Executive of Bord Bia, commented; "I am delighted to welcome KSG Catering as a verified member of our Origin Green programme. KSG is focused on sustainability and their activities in the new Microsoft campus in Leopardstown, Dublin and their plastic free café in University College Cork are illustrations of their commitment".
Cathriona Hallahan, Managing Director Microsoft Ireland, added: "Our catering partner KSG is leading the way in sustainability practices and this is reflected in the five innovative and bespoke restaurants at One Microsoft Place. The Origin Green certification within our catering team aligns with our strategy for One Microsoft Place as a modern and leading workplace of the future enabling our employees to develop sustainability habits for the long-term."
Established in 2012, Bord Bia's Origin Green is the world's first national food sustainability programme that enables Irish farmers, producers and food services organisations to achieve measurable sustainability targets, thereby reducing environmental impact, serving local communities and protecting Ireland's natural resources.  www.origingreen.ie.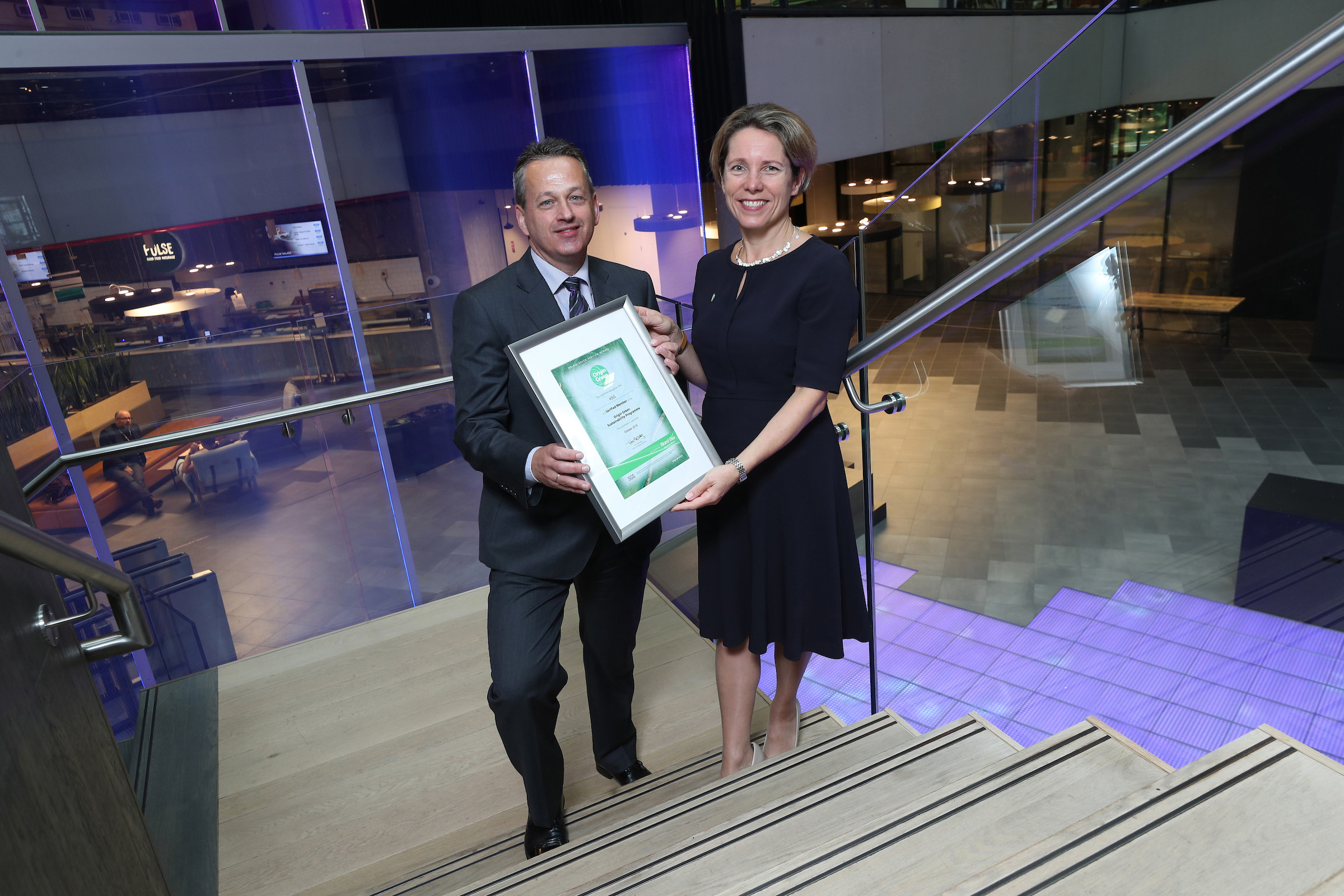 About KSG:
KSG is a leading provider of catering and hospitality services to organisations in the private and public sector in Ireland. The company employs 1,150 people and operates in 110 locations around Ireland. KSG operates a City & Guilds accredited culinary training centre in Dublin to support its activities.
The company provides catering, hospitality and wellness services for a range of clients including Microsoft, Accenture, Deloitte, MSD Pharma, Laya Healthcare, Allergan, Ericsson, Fidelity Investments, DAA, Mater Private Hospital, UCD, UCC, St Vincents Hospital Group and St James's Hospital.
KSG Dining Ltd, the parent group, is owned by DCC Group Plc, the Hogan family and Michael Gleeson ( Chief Executive ). The company had a food and beverage turnover of €60 million in the year ended March 2017 achieving an operating profit of €1.35 million.
For further information or photography please contact:    
Mari O'Leary  01-6789888 / 087 2574253        O'Leary PR & Marketing        marioleary@olearypr.ie
Editor's Notes:
Michael Gleeson CEO of KSG
Michael Gleeson is the Chief Executive of KSG Dining Ltd. A graduate of UCD, Michael has been with the  company since 2003. He was previously Managing Director of KSG Food Services Group.
KSG at One Microsoft Place, Leopardstown :
KSG has designed and implemented seven bespoke restaurant / cafe concepts at one Microsoft Place, which opened in February 2018 and provides dining services to 2,000 employees each day.
Key elements of the sustainable catering activities at One Microsoft Place:
Sourcing top quality food supplies from local producers operating with sustainable practices
Sourcing seasonal vegetables from their own farms in Meath and Cork
Promoting less single use disposables – infused water fountains with re-useable wares and surcharge on disposable coffee cups
Tracking waste and energy usage
Healthy eating, personalised health and wellness activities integrated with Fuel Your Everything program
Chef start program – social sustainability
The seven bespoke restaurant / cafe concepts:
'Cortado' Coffee Bar – coffee roasting on site with supply link to a farmer's co-op in Columbia
'Knead' Bakery – scratch bakery baking its own breads, desserts on site
'Forage & Gather' – build your own meal – an array of salad selection to choose from with the option of adding fish, chicken, soup or broth to complete your personalised meal
'Italian Quarter' – Pizza option – freshly made pizza dough cooked in a fire oven and Pasta option –pasta with salad and griddle cooked fish or chicken with Italian dressings
'Pulse Deli' – tossed salads and made to order deli and signature sandwiches
'Chefs Table' – incorporating 3 stations serving chef specials – vegetarian / vegan option, fish option and roast chicken or beef option.
'Street Kitchen' – format that changes every week to deliver a vibrant global culinary experience – Mexican, Vietnamese, Barbeque, Indian, Japanese, Mediterranean etc.
About  KSG Ireland's First Plastic Free Café at UCC sustainability initiative :
KSG's other leading sustainability initiative is Ireland's first plastic free café located in University College Cork. Following the successful introduction of the "University Farm" initiative in 2016, KSG again partnered with UCC on sustainability leadership when together they launched the 'Bio Green Café' in the Biosciences Institute last September where all single use plastic has been removed or banned. The goal of the project is to eventually eliminate all variants of single use plastic on the UCC campus.