Top Bridal Hairstyles for 2017
From the 5* Bridal Hair Experts at Kazumi Hair Salon.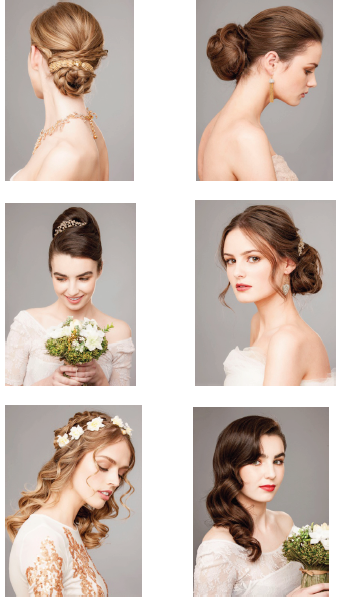 With the bridal season once again upon us, Kazumi Hair Salon on Molesworth Street, Dublin 2 has anticipated the top bridal hairstyles for 2017. The top predictions encompass styles that classic, romantic and modern brides alike will love. So whether the new bride is looking to wear her hair in a glamorous up style, lovely and loose, or simply chic she's sure to find inspiration in Kazumi's top choices for the coming year.
Boho, braided and vintage Hollywood glamour is still very much in. However, don't confuse Hollywood glamour with big hair for this season as backcombing has been banished with brides now looking for a natural lift. Those who want more from their hair are opting for clip-­‐in pieces.
Accessories were very popular in 2016 and Kazumi expect 2017 to continue on with this trend. Brides who wear a veil during the ceremony often replace with an accessory later in the day. Embellished hair accessories of all shapes and styles are definitely still the favourites.
Brides often find themselves unsure of what styles will suit them on their wedding day. Jacqui Fay, Lead Bridal Stylist for Kazumi has this to say, "When choosing a style, it's always best to look like your most groomed self. Going too different on the hair may make you feel exposed or unlike yourself."
Kazumi bridal packages start from just €600 which includes styling of the brides hair and trial, travelling to the bridal parties home or venue, along with styling for the bridal party. Kazumi also offers make-­‐up with leading make up artist with Zoe Clark, who has a studio in the salon. Zoe has seen a lot of brides opting for a simple, dewy, fresh make-­‐up with an emphasis on their eyes.
If the bride chooses to travel to the salon, Kazumi has a private room to house the bride and her bridal party along with her choice of make-­‐up artist allowing all services to be done in the quiet and serene environment that is Kazumi. With a champagne reception to get the day started off in the right way Kazumi is the perfect place to start off the celebrations. Call 01 678 5004 today for a consultation for you and your bridal party. www.kazumihair.ie
About the bridal team:
Jacqui Fay
As senior member of the Kazumi artistic team, Jacqui has a wealth of experience with brides coming to see her from New York, Singapore, Australia and many other countries, and she creates custom looks tailored to each bride's specific needs. Beginning from the first consultation, she discusses all things bridal with the bride-­‐ to-­‐be, from dresses, to colour schemes to trends. Jacqui's bridal images have been published in Paris and the US.
Sandra Greene
International award-­‐winning stylist Sandra Greene is an expert and a specialist in bridal hairdressing, and regularly styles hair for magazine and TV shoots. She has also worked at wedding shows around the country showcasing hairstyles for brides including the Debs Expo 2014.
Zoe Clark
– Make-­‐up Zoe, who began her career in London working for MAC Cosmetics, has built up an impressive client list working in many areas of make-­‐up including fashion, advertising, TV and music. A firm favourite among celebrities, she's previously worked with high profile personalities, including Mariah Carey, Minnie Driver, Nigella Lawson, Cat Deely, Denise Van Outen, Westlife, The Spice Girls, Sophie Anderton, Girls Aloud's Nadine Coyle and Tara Palmer-­‐Tomkinson, along with Irish celebrities Amanda Byram, Victoria Smurfit, Lorraine Keane, Pamela Flood, Laura Woods, Kathryn Thomas, Leigh Arnold and Alison Doody.