Press Release
Discover the Secret Cs of Appleby's
Ireland's Leading Engagement Ring Experts
As we prepare for the second royal wedding of the year, Appleby Jewellers is encouraging savvy Irish couples to look beyond the famous '4 Cs' when choosing their engagement ring this season. Based on the principle that the perfect diamond ring goes far beyond cut, clarity, colour and carat, Ireland's leading diamond expert has revealed the Secret Cs behind its range of stunning engagement rings, available from €2,500.00.
More than the 4 Cs, the Appleby's Secret Cs promise couples master craftsmanship with unrivalled credibility, a confidence guarantee, endless commitment to quality and a lifetime of care, enjoyed by generations of loyal Appleby's customers since the Irish run family business began back in 1950's Dublin. Speaking at the launch of their latest range of engagement rings, Joe Appleby, Managing Director said: "With three generations of experience under our belts and the widest selection of diamond rings in the country, we feel best equipped to guide couples towards choosing the piece that's perfect for them.
"At Appleby's, perfect truly means the design you love, with the highest quality diamond available to you representing the very best possible value for money. Each and every Appleby's engagement ring is sold with a lifetime guarantee with all our customers invited to enjoy an annual complimentary professional clean and inspection, as well as ongoing up to date insurance valuations, whether they've spent €2,500 or €20,500 on their ring!"
Blue Sapphire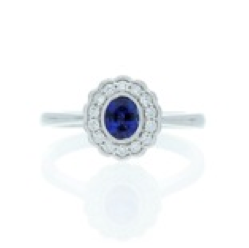 Celebrating royal bridal styles, this outstanding diamond ring is handcrafted in platinum metal and holds a sensational blue sapphire. Make a dramatic statement with a ring that is designed to be both elegant and spectacular, encapsulated within an ornate floral diamond frame for a stunning finish. Priced at €1,795.00.
The Solitaire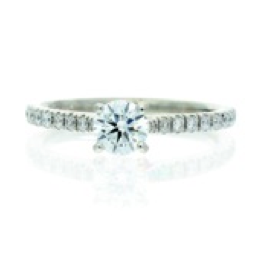 Timeless and elegant, this marvellous solitaire diamond is set in a platinum band, encrusted with beautiful brilliant cut diamonds. A popular choice for Irish brides, this stunning engagement ring features a bright round-cut centerpiece that's held in a soft four claw setting for magnificent views of the diamond. Priced at €2,695.00
Cushion Cut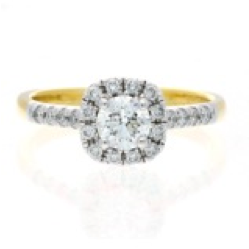 This distinctive vintage style ring has the quiet elegance of a classic cushion cut stone, enhanced with a halo of complementary gems to enrich the sparkle. Beautifully designed in yellow gold and coated with snow-white diamonds, the ornate frame adds to the bright brilliance of this perfect piece. Priced at €2,995.00
Yellow Gold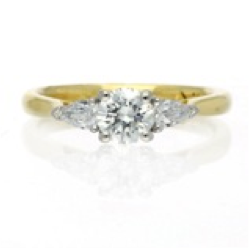 Yellow gold settings have become increasingly popular in recent years with this fabulous 18ct yellow gold and diamond ring taking centre stage. Classically created with a shimmering round cut diamond and striking pear cut shoulders, this beautiful engagement ring is priced at €2,995.00
Synonymous with the jewellery industry in Ireland for nearly 70 years, the Appleby's family business started with the true love story of John (Mr) and Margaret (Mrs) Appleby, who was of Hungarian descent and the first female diamond setter in 1950's Ireland. Margaret began the business in Dublin making jewellery in the family home for a select circle of customers, and by 1960 she and her husband John had opened their first shop at Johnson's Court, off Grafton Street, where the store remains today. All four of John and Margaret's sons, Joe, Gerry, Mark and Johnny are involved in Appleby's and play an active role in every aspect of the business, supported now by a third-generation which includes Kate, Sophie and Nicholas Appleby. One of Ireland's leading diamond experts, Appleby's offer the biggest selection of gems in the country across a wide range of budgets, with bespoke engagements rings available from €2,500.
-Ends-
For further information contact:
Sarah Corr | Melissa Kelly @ O'Leary PR | 01-6789888
sarahcorr@olearypr.ie | melissakelly@olearypr.ie
About the Appleby Secret Cs
Craftsmanship. Appleby's is one of only a small number of Irish jewellers that boasts a Dublin based design studio and workshop, blending the specialist method of expertly handcrafted jewellery with state-of-the art digital imaging technology. This studio and workshop is the "engine room" at the heart of the business. For over sixty years, it's been channeling creativity with contemporary and classic design as well as an obsessively high quality finish, to create original and bespoke engagement rings that are available from just €2,500.
Credibility. There is hardly a business area in the world where reputation is as important as in the jewellery business. For three generations, Appleby's continuing growth has been built on a reputation of unshakable credibility. Empowered by new technologies and a wide choice of brands, the customer has never had more information, or indeed been more vulnerable. Being local and credible has never been so important.
Confidence. Trust is also of the greatest importance when buying a high value item of any sort and the Appleby name is their customers' confidence guarantee. As one of the very few Irish companies who buy directly from the bourse in Antwerp, each and every diamond is individually inspected with its associated certificate validated to ensure only the very best ethically sourced and conflict free stones make it in to an Appleby's diamond engagement ring.
Commitment. The commitment to quality begins the moment the diamonds are selected in Antwerp, as a member of the Appleby family handpicks the highest quality stone from over a hundred diamonds with the very same shape, size, colour, clarity and cut. The customer's best interest is always at the forefront, with the team committed to ensuring that every person who leaves their shop walks away with his or her dream ring, having experienced the very best service, selection and value in the market.
Care. John and his wife Margaret Appleby worked hard to set extremely high standards of customer service and quality workmanship when they first established the business in the 1950's and these values remain instilled in the subsequent generations of Applebys. It is imperative to always exceed the customer's expectations, even long after they've made that final purchase. Every Appleby's customer is given a lifetime guarantee and invited to enjoy an annual complimentary professional clean and inspection and, of course, ongoing up to date insurance valuations. This unrivalled care and endless attention to detail are just some of the things that make the Appleby's experience different.
About Appleby's
Appleby's became one of the best-loved names in Irish jewellery and the leading experts for diamonds, establishing its reputation for exemplary customer service and the highest standards of quality workmanship. Appleby's Jewellers remains a fully Irish owned family business today and is now managed by the second and third generation of Applebys including brothers Joe, Gerry, Johnny and Mark and their children Kate, Sophie and Nicholas Appleby. Together they have created a world-class reputation for excellence and design, stocking stunning collections of diamond rings and fine jewellery, with expertly handcrafted pieces to suit any budget.