Novelties from Søstrene Grene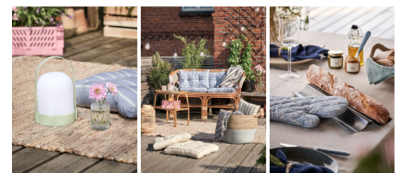 A new season is underway. With a series of novelties and classics, be inspired to create room for 'hygge' under the open sky. Explore decorative baskets and crates, outdoor lighting and lanterns, as well as tools and tableware for setting an atmospheric table out in the open. This collection will be available in stores, including Georges Street Dublin 2, Dun Laoghaire, Blanchardstown, Cork, Limerick, Belfast, Bangor and Newry from May 13th 2021.
Add aesthetics and a feeling of 'hygge' to the warm summer evenings with the sisters' new selection of interiors and tableware. The atmospheric novelties will bring 'hygge' to both indoor and outdoor spaces and includes outdoor lighting, decorative baskets, practical crates as well as the sisters' popular LED lamp in a beautiful new design. As you take care of your belongings and bring them inside, use one of the many baskets available that is not only aesthetically pleasing but is wonderfully practical too.
As the evenings get brighter and the temperatures rise, move the dining experience outside for all to enjoy under the open sky. Prepare your meals as you gather with family and friends, accompanied by fine tableware and useful tools for the barbeque season. For this purpose, a series of novelties are introduced, all ideal for setting an atmospheric table outside, mixed with the sisters' classic stoneware tableware, which is always available in Søstrene Grene stores.
Be inspired for creating 'hygge' under the open sky with the sisters' latest selection. Images for press:
https://www.dropbox.com/sh/6hearr5ryueqxsg/AADyuDIWQDIrlIqgL2zrqlTPa?dl=0
STORE LOCATIONS
Georges Street Dublin 2, Dun Laoghaire, Blanchardstown, Cork, Limerick, Belfast, Newry, Bangor
For further information and photography, please contact:
Suzanne Monks | Mari O'Leary @ O'Leary PR
suzannemonks@olearypr.ie | marioleary@olearypr.ie 01-678-9888