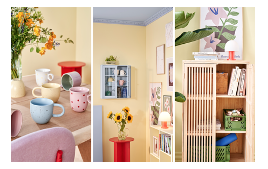 Søstrene Grene launches their newest collection Home Gallery where you will find inspiration for the gallery wall but also for incorporating colour in your décor and how to display ceramics and other decorative bits in the home. Think of your home as a dynamic gallery which constantly changes and trust what you like.
Home Gallery consists of elements in muted colours which complement each other such as decorative candles in different shapes, soft wool blankets along with a wealth of ornamental ceramics and beautiful coloured glass. Along with this, the collection also offers a new take on the sisters' popular wooden cabinet along with many more novelties for the entrance hall, kitchen and not least the living room.
If you are really looking to make the colours pop, Søstrene Grene shows how a few elements in contrasting colours such as a red side table against a light, yellow wall can both stand out and tie a whole room together. As something completely new, Søstrene Grene is also launching a range of decorative wall paint in a wealth of wonderful colours. These carry the Nordic Swan Ecolabel. Use the paint to spice up old furniture or paint parts of a wall to create the illusion of more dimensions.
Søstrene Grene also offers picture frames, now in new colours, a selection of lovely posters of FSC®-certified paper along with ceramic wall decorations which create an interesting three-dimensional effect. The new wall cabinets in blue and grey can further adorn your walls and showcase lovely finds, memories, and all items which bring you joy.
The new collection launches in stores including George's Street Dublin 2, Dun Laoghaire, Cork, Limerick, Bangor, Belfast and Newry from December 15th 2022 and will be available while stocks last.
For further information and photography, please contact:
Suzanne Monks | Mari O'Leary @ O'Leary PR
suzannemonks@olearypr.ie | marioleary@olearypr.ie 01-678-9888
Images can be found here:
 https://www.dropbox.com/scl/fo/gkcer6ms97cqewkrcrf5n/h?dl=0&rlkey=v9wizl1q3vo3e3u4gxb4gibmc