Saturday 5th of November
The Printworks, Dublin Castle, Dame Street, Dublin 2
Ireland's premier whiskey tasting event, Whiskey Live Dublin, returns with a bigger than ever line-up of Irish and international whiskey showcased across two sessions (13:30-17:00 and 18:00-21:30) on Saturday the 5th of November in The Printworks, Dublin Castle, Dublin 2.
Whiskey Live Dublin will feature an eclectic collection of whiskeys from around the world, as well as Irish gins, vodkas and craft spirits.
Event organiser, Ally Alpine of the Celtic Whiskey Shop has said, "We have all seen the whiskey industry flourish over the last number of years. We have witnessed lots of innovation, both in terms of product development and in the opening and expansion of so many distilleries across Ireland. This is great news for us, and most importantly, our visitors, who should expect to see the fruits of over 60 unique exhibitors at this year's show.

Visitors will also have the opportunity to enjoy some fantastic food pairings, with KOH Bar, L. Mulligan Grocer and 57 the Headline all creating tasty bites to compliment some of our favourite whiskeys. In addition to an extensive line-up of exhibitors, there will also be an exciting range of masterclasses taking place throughout the day. This year's Whiskey Live Dublin is one not to be missed."
There are masterclasses to suit all interests whether it's knowing more about the importance of the barrels used in maturation, meeting master distillers from some of the world's leading distilleries, deconstructed whiskey tastings, tasting creative cocktails or simply finding out what the future holds for whiskey. Classes will take place from 13:00 until 19:00. As masterclass tickets are limited, Whiskey Live Dublin is advising everybody to book in advance to avoid disappointment. Full list of masterclasses are available online at www.whiskeylivedublin.com/master-classes .
Whether you are a stalwart whiskey enthusiast or just looking for a day out that offers something different, Whiskey Live Dublin is set to be a fun and educational experience for all.
Tickets for Whiskey Live Dublin are priced at €42 plus booking fee with the Celtic Whiskey Shop donating €10 per ticket to Down Syndrome Dublin. Masterclass tickets are an additional €5, with all money donated to Down Syndrome Dublin. Tickets are available via www.whiskeylivedublin.com or from the Celtic Whiskey Shop, 27-28 Dawson Street, Dublin 2, or by phone at 01-6759744. Visit www.whiskeylivedublin.com for more details.
Facebook.com/WhiskeyLiveDublin     @WhiskeyLiveDub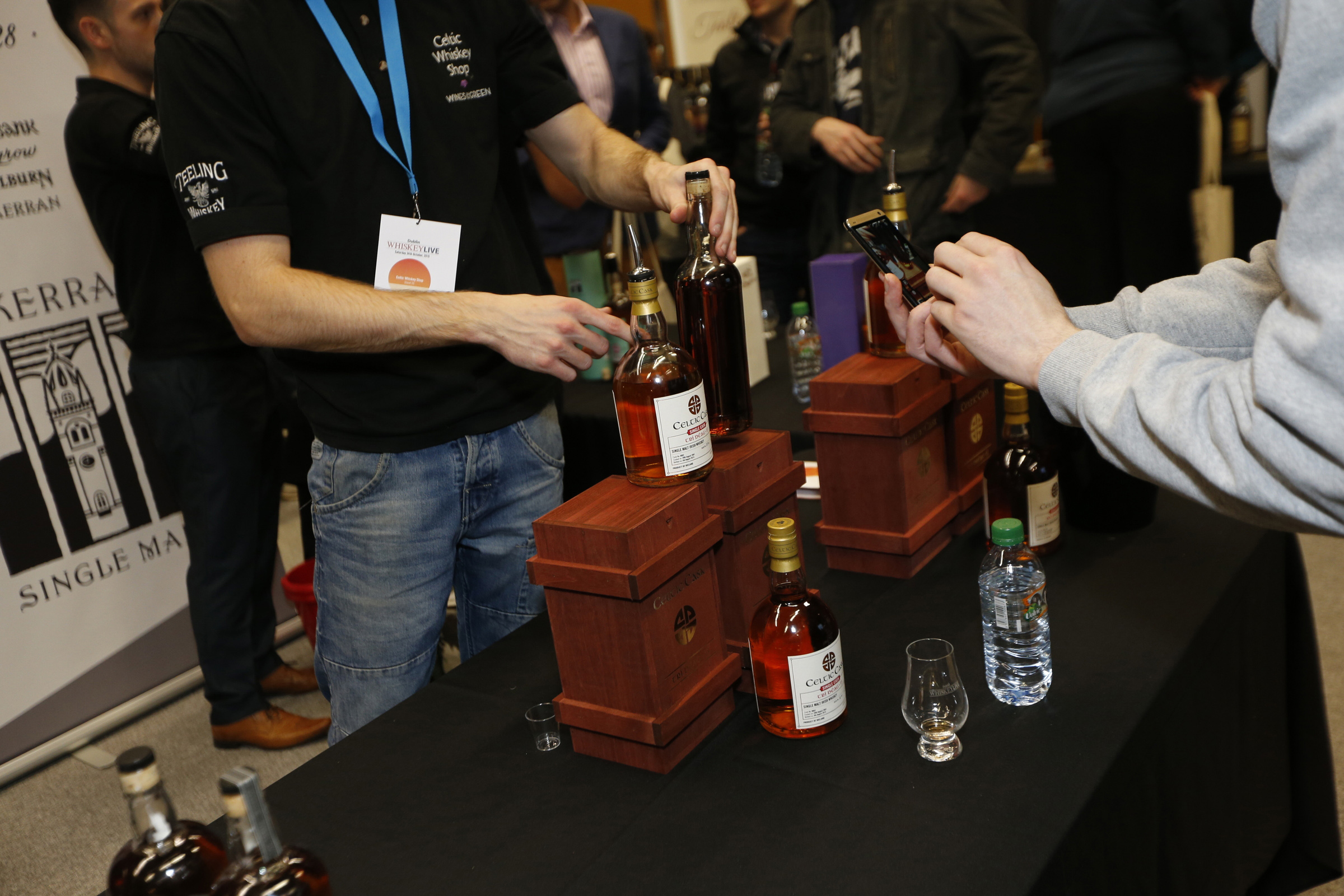 Whiskey Live Dublin 2016 confirmed exhibitors to date include:
WHISKEY LIVE DUBLIN EXHIBITORS 2016
Beam Suntory
Irish Whiskey News
Benromach
Irish Whiskey Society
Blackwater Distillery
Jack Daniels
Boann Distillery
Jack Ryans Whiskey
Bruichladdich
Jameson Black Barrel
Buffalo Trace
Jameson Distillery
Bulleit Bourbon
Jeffersons Bourbon
Bushmills Distillery
Knappogue Castle Single Nalt
Celtic Whiskey Club
Listoke Distillery & Gin School
Celtic Whiskey Shop
Loch Ness Water
Connacht Whiskey
Longueville House Apple Brandy
Coole Swan Cream Liqueur
Maison Cognac Park
Dingle Distillery
Mitchell's Greenspot
Dr Adam Elmegirab Bitters
Muldoon Whiskey Liqueur
Drumshambo Shed Distillery
Neat Glasses
Dubliner Whiskey
Nikka Whisky
Echlinville Distillery
Prize Fight Whiskey
Egans Whiskey
Quiet Man Whiskey
Gaelic Whisky Co
Single Pot Still Whiskeys of Midleton Distillery
Glendalough Distillery
Slane Distillery
Glengoyne Distillery
Sliagh Liag Distillery
Glengyle Distillery
Springbank Distillery
Glenlivet Distillery
Tamdhu Distillery
Glenmorangie Distillery
Teeling Whiskey Co
Gordon & MacPhail
Tipperary Whiskey
Great Northern Distillery
Tullamore Dew
Hennessy Cognac
Walsh Whiskey Distillery
Hyde Whiskey
West Cork Distillers
Irish American Whiskey
Whisky Magazine
Irish Whiskey Experience
Wild Geese Whiskey